National Student Survey: NSS
For students on courses leading to undergraduate credits or qualifications.
About the NSS
The NSS, run by Ipsos MORI, gathers students' opinions on the quality of their courses. It includes all full-time and part-time UK, EU, and international undergraduate (UG) students in their final year of study. The NSS excludes incoming and exchange students.
Guidance for staff who are promoting the survey can be found in the resources section below. Please be reminded that there are strict guidelines around the sharing of response rates and these must be adhered to when promoting the survey.
NSS fieldwork usually runs from early February to the end of April.
NSS results are available on the Planning Office website.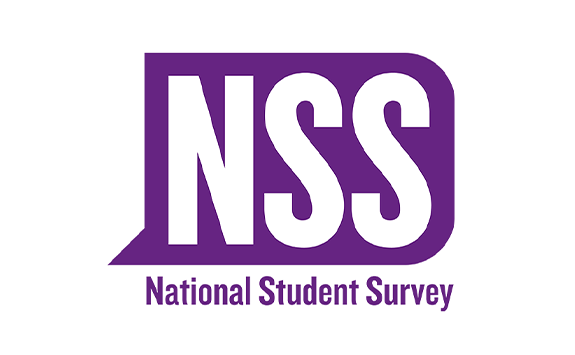 What does it ask about?
The survey has a number of core questions, relating to the following aspects of the student learning experience:
Teaching on my Course
Learning Opportunities
Marking and Assessment
Academic Support
Organisation and Management
Learning Resources
Student Voice
Mental health and wellbeing services
Freedom of expression
Students also have the opportunity to give positive and/or negative comments on your student learning experience as a whole. The 2023 NSS questions can be found here.
Who is eligible to take part?
Eligible students include all those on courses leading to undergraduate credits or qualifications in their expected final year of study. The survey also includes students who have withdrawn from study during their final year as their feedback is equally valuable; students repeating their penultimate year in 2023 will be surveyed unless they have been specifically submitted for removal; students who have changed their course arrangements, but were originally expected to graduate in 2023, will only be eligible this year and not when they eventually reach their final year. Students who are surveyed in 2023 will not be surveyed again in 2024.
How do I take part?
At Newcastle University the NSS opens on 6th February 2023. If you are eligible to take part in the survey you will receive an email from Ipsos MORI with a link to complete it. You can complete the survey online or on your smartphone. You can also go to www.thestudentsurvey.com and log in there to take part.
What happens to my responses?
Your opinion counts! The NSS responses help us find areas where the student learning experience could be improved. Your School should work closely with student representatives on the Board of Studies and Student-Staff Committee to develop an action plan in response to NSS results.
Why should I take part?
As well as the importance of providing feedback, taking part in the NSS is an opportunity to win a prize and to make a difference for others too. Every year shopping vouchers can be won with a value of up to £100. A charity donation of £2 per completed survey in the first 3 weeks is made to a charity chosen in collaboration with Newcastle University Students Union (NUSU).