Let us know what you think
We've been hard at work over the last academic year to find out what's important to our customers online.
Through several exercises, surveys and testing our aim was to develop a more intuitive, user-centred and task driven experience.
Gathering your feedback is essential to future developments.
Whether you have had positive or negative first impressions of the new website we would love to know what you think.
The below section outlines some the changes we have made already in response to your feedback.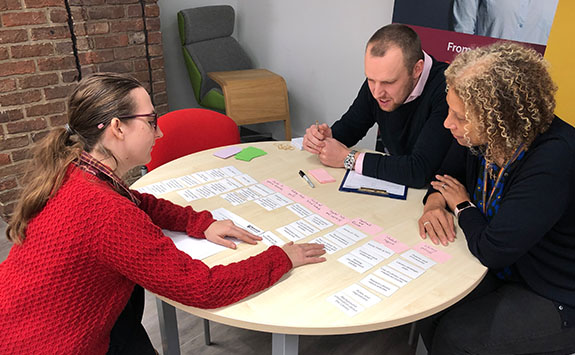 Updates: developments in response to your feedback
We have made the following changes in response to your valuable post-launch feedback:
In addition to the changes above, we have received several comments on the below topics.
Accessing databases
The new Databases, Journals and Reading Lists page explains that Library Search is the recommended way to access all databases. It provides reliable and immediate authenticated access to resources, especially when working remotely.
Customers have commented that the list of "favourite" or "popular" databases as seen on the old website had not been replicated in the new website. As outlined above, our aim is to further educate users to use Library Search for all resources rather than the Library providing a subjective "recommended" or "frequent" list of links.
In June 2020, in response to your feedback, these database links have been restored under the heading "Direct access to frequently used databases" on the page. A filtered search box is also available on this page, allowing you to find only databases in Library Search.
If you would like to provide direct access to any database or resource not listed on the above page, it is recommended that you use the permalink feature within Library Search.
Related help: How to get a permanent link to an item in Library Search
Staff contact details
Library Help provides several ways to get in touch with the Customer Services team as well as other Library departments and members of staff including by telephone, email and online chat. Wherever possible, we encourage customers to use Library Help as it aims to provide a centralised, consistent and quicker response than emailing individual members of staff directly.
Customers have commented that they would like to find information about key members of staff within the Library, such as the name of the Librarian or members of the management team.
In July 2020, in response to your feedback, we have added a 'Meet the team' section to the About the Library page which includes a list names and job titles (including some email addresses) for members of staff within the Leadership Team, Senior Management Team and the Liaison Team.
Wherever possible we would encourage customers to contact the Library via Library Help, and for feedback, via Tell Us What You Think. Submissions via both of these services will be passed to the respective teams and individuals.