Virtual Reading Room Service
How to book a digital appointment to view Special Collections material remotely, wherever you are based.
Through our virtual reading room service you can book a digital appointment to view Special Collections material remotely, wherever you are based.
Digital appointments are one hour in length and are facilitated using an on site visualiser and viewed via the video conferencing platform Zoom. These appointments are suitable for all researchers, whether members of Newcastle University or external researchers, who:
a

re not able to visit Special Collections in person

need to view item(s) unavailable elsewhere to look at a particular piece of information or detail

n

eed to

assess a

Special Collections item(s)

for content which they might like to have digitised

through our Digitisation Service.
During the digital appointment, a member of Special collections staff will go through the material at your direction while you view it on your screen.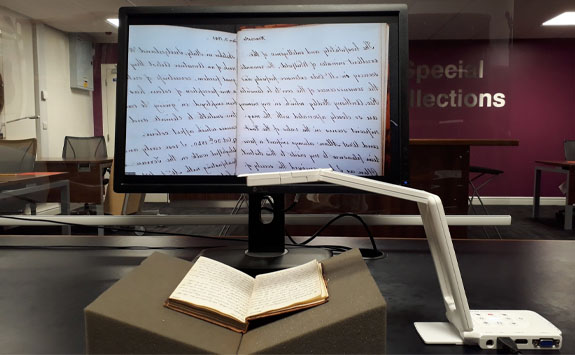 Please note:
digital appointments

are not offered as a means of expert consultation,

rather the role of the member of staff facilitating

will be to provide visual access to collections material only.

not all material is suitable for these appointments due to size, condition

or content.

I

f the material you request to view is unsuitable for cons

ultation

via the

virtual reading room

s

ervice, or if it has already been digitised and is available to view through

our online image platform

Colle

c

tionsCaptured

, you will be contacted by a member of Special Collections staff after you have submitted your request form.

in order to use the virtual reading room service you will need to have

access to Zoom.
How to book an appointment
Before booking a digital appointment, you will need to know the details of the archive collection item or a rare book you would like to view:
After requesting an item(s), there is a 2 step process:

you will be sent an email allocating a provisional date and a time based on preference and availability.

Once a provisional booking has been made, a second email will be sent to confirm

the date and time of your session,

and

you will be provided with the Zoom meeting link which you will need for your session. The password for the Zoom session will be sent in a separate email.