Online and Blended Learning
A combination of face-to-face teaching with online and computer-based activities.
What is Blended Learning?
Online or blended learning is the combination of face-to-face teaching with online and computer-based activities. It can be particularly useful for distance learners or where students may be working alongside their studies because it allows more flexibility.
Students get can get access to materials whenever they need them, through Blackboard or other online places.
Activities such as online discussion boards and quizzes help students to learn and interact beyond the classroom, to consolidate and test their knowledge and support independent and group based study.
With lots of demands on your time, blended learning can offer a great way of supporting your students and delivering material effectively and efficiently.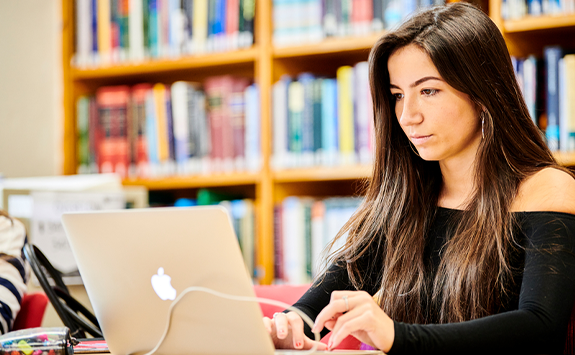 Definitions
Here are some useful definitions adapted from the Online Learning Consortium:
Web-enhanced learning: Some online activity is mixed with classroom meetings, replacing a small amount, but not all required face-to-face teaching activities.
Blended learning: A significant amount of course activity is done online, but there are some required face-to-face instructional activities, such as lectures, discussions, labs, or other in-person learning activities.
Online learning: Almost all or all course activity is done online; there are very few or no required face-to-face sessions within the course and few/no requirements for on-campus activity.
Flexible learning: Offers multiple delivery modes where time and place of study are extended beyond the traditional campus based programme.
Examples
Examples of online activities can include:
Video or audio recordings and resources, from group feedback to short explanations
Clips, news articles, songs, poems for discussion or simply context and interest
Tests and quizzes students can use to test their knowledge or to
Discussion boards with threads relating to certain topics or ideas
Supporting Online Course Development
LTDS can provide additional support to academic teams delivering new credit bearing online/blended programmes. We can assist with learning design,curriculum and resource planning, media production and the oversight of projects. The workshops below ar designed to fit in with, and contribute to the programme approval process.
Bespoke workshops
Exploring delivery options (1/2 day) Understanding the time commitment and opportunities for learning online
Shaping the programme (1 day) High level programme design to feed in to marketing and business case development
Programme structure (1 day) Student journey and module structure. How modules contribute to the overall aims and objectives and creating a meaningful student journey
Programme design (1 day) Outline modules and draft MOFs
Module design (1/2 day) Detailed module design and assessment. Inform production schedule
Supporting online discussion (1/2 day) Introduction to moderating online discussion forums
Authoring for online delivery (1/2 day) Accessibility, web delivery conventions, student time, licencing and library considerations
Designing Online Learning
Online programmes delivering credit are subject to the same approval process as those delivered on campus. To find out more about the process contact your faculty learning and teaching team.
Once you are familiar with the approval process you can stage your programme design and development activities around key approval milestones.
Key Resources
Your Students
Depending on your course your target students may be very different from on-campus students. They may be in different time-zones, be studying part-time, have differing levels of information literacy, or be mature/returning students.
Knowing who your students are, and the constraints on them will inform the choices you make when you design your course. You may for example, plan early low-stakes/formative assessment to identify students who may be struggling.
Learn about being an Online Learner
If you haven't delivered online courses previously we encourage you to sample online courses as a student. This will give an invaluable insight into what is different and what is possible.
Talk to Colleagues
Draw on different perspectives from colleagues as you conceptualise your course and develop a high level design.
Seek initial advice on resources required from:
University Library via your liaison librarian - copyright, availability of materials
Digital media services – high quality media production
In school graphic designers/animators
NUIT for advice on technical requirements
LTDS - elearning tools, and approaches to support course design
Sign up to our mailing lists
Producing Online Learning
Before students start on your course, you will need to have the majority of the course materials developed and available.
Ideally, you will involve a team of people in the development of materials.
Take time to plan what you will develop for each topic of the course; this will help to define a production schedule and keep track of progress. Tools like Trello and Microsoft Planner may help.
Examine your design from a student perspective. Tools like ABC curriculum design can help you see the shape of your design through the eyes of student activities (acquisition, collaboration, investigation, practice, discussion, production)
Make sure that all people involved have a shared understanding of the course aims, learning outcomes and how their part fits.
If you are using other services eg Digital Media, or external designers you will need to book their time and plan around their availability
Define norms, style and conventions early on: focussing on one topic/segment in its entirety first of all will help with this.
Seek early feedback on what you have produced from colleagues and prospective students.
Design is an iterative process, appreciate that some ideas will not work. Allow time to review and improve materials and segments.
Find out more about the elearning tools available to you