About Andrew
A Levels studied: Maths, Further Maths, Chemistry
Course: BSc Mathematics
Choosing Newcastle
I just got a good feeling from the University, the accommodation, the School and the staff. The mathematics university leader board was important too but Newcastle has a good place on the list. All mathematics courses are quite similar so it was more about the university itself for me.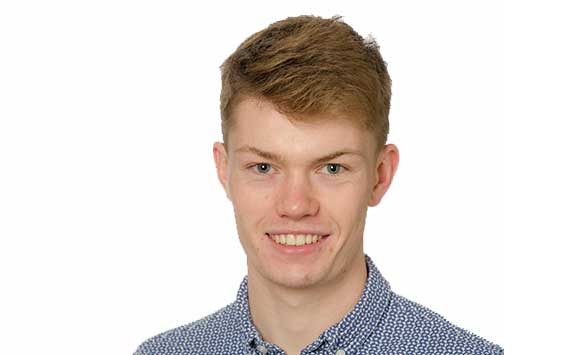 Studying at Newcastle
I have had lots of lecturers in the past two and a half years who will go out of their way to help you with whatever you need. The style of teaching is good too. We have a range of different sessions from lectures and problems classes, to group meetings and computer labs. This stops uni work getting monotonous and boring.
Studying mathematics
I'm a bit nerdy and I enjoy all the new course content. My favourite module was called multivariable calculus and differential equations. It built upon what I had learnt at school.
Being social
The maths society is great, we have loads of socials and lots of activities to help you get to know your course mates. I'm the treasurer of MathSoc this year so I'm working with the Union a lot. Getting involved with a committee and running a society is great.
Future plans
I want to do a one-year maths Master's course. This has been inspired by my undergraduate study at Newcastle. The course content has given me some good ideas, and got me thinking about what maths I enjoy. I have since found a good course that's right for me.
Staff at the School have been helpful in checking my CV and personal statement, and providing me with opportunities to get involved to make my application more substantial. This friendly help sums up the School of Mathematics, Statistics and Physics, and the University - everyone is out to help the students and wants what's best for them.
Studying at Newcastle has given me great opportunities to develop myself so I am better prepared for further study and for a professional job at the end (hopefully).