About Rob
A Levels studied: Mathematics, Further Mathematics, Economics
Course: BSc Mathematics
Choosing Newcastle
Newcastle is an amazing University and is in a great city. It's well respected as a good university to study at, and the content of my course really attracted me to it. It's also a lot cheaper to live up here than in other university cities, which makes being a student a lot more affordable. Newcastle consistently ranks towards the top in UK student experience and it's no shock why.
This is a great city to be a student in and you feel at home very quickly in Newcastle.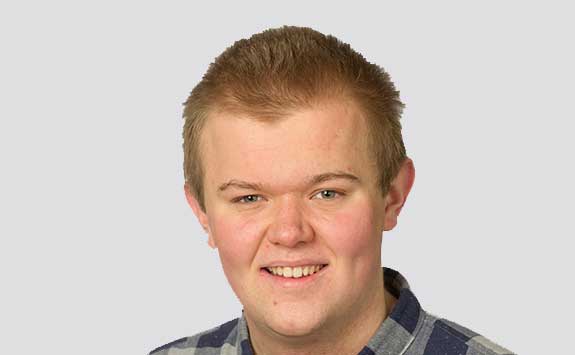 Studying at Newcastle
Teaching at Newcastle is great, lectures are clear and concise. Lecturers are more than happy to answer any questions you have if you go and see them during office hours. You can tell that they want you to succeed and do well whilst at university, and beyond. Lecturers also regularly schedule drop-ins and problem classes, so you can ask any questions you may have on the course and make sure you're up to date. In first year we also got weekly emails reminding us of deadlines, so you know what you need to be doing.
Studying Mathematics
The course is varied and allows you to study all different parts of maths. It's also structured so that the first few weeks ease you in and build on your A Level knowledge, helping for a better transition to university life. My favourite module was Introduction to Probability and Statistics, it was taught superbly and is an area of maths that interests me. The course is also assessed in a number of ways, through exams, midterms, assignments, group work or presentations. There's always a variation in the course.
Recommending Newcastle
Maths at Newcastle is amazing, there is regular assessment that helps you keep on top of your work and makes you aware of what you need to improve on. The lecturers are top quality and you'll make some great friends on the course! The course is varied and you'll rarely be doing the same things twice. The transition from A Level to university is very manageable.
The maths building has great facilities for maths students, including the penthouse which is a private study place on the top floor that provides excellent views of the city as well as a good place to work.
Living in Newcastle
Newcastle is a great city, there's so much to do and it looks amazing, especially down by the quayside. The cost of living up here is also an advantage, I spend a lot less than my friends at other universities. Being so close to the coast and being able to get there by the Metro is nice too.
Future plans
After University, I want to go into professional services. Newcastle has helped me a lot to achieve these goals. I managed to secure an interview with PWC for a tax internship and I went to the Careers Service for some interview advice. They were really helpful and ran me through some practice questions and showed me where I could find more advice online. They also sent me away with more questions so I could practise even more before the interview. I managed to secure the internship as a result of the interview, and will be working with PWC this summer which I am very excited about.
I think the Careers Service really helped me in achieving this goal and securing the internship.