'One Planet' research and teaching hub launched
New facilities that will bring together geologists, biologists, chemists and archaeologists to address one of the greatest challenges our graduates face, are being launched at Newcastle University.
The new One Planet hub is being created to address the question of how Planet Earth will support a human population of more than 9 billion by 2050.
It's part of a £2m redevelopment of Newcastle University's Drummond Building.
One Planet will be the physical hub for research and teaching that provides a scientific basis to underpin the decisions that society needs to ensure a sustainable future.
Professor David Manning, Professor of Soil Science, said: "The challenge facing our planet in the next 30 years is huge and ultimately it is our graduates who are going to have to sort it out.
"We don't know now what our students are going to be faced with in the future.
"But by bringing together engineers, scientists and archaeologists, we can give them a unique opportunity to learn together and prepare them."
Launch of the Houston Laboratory
The first part of the project will be the development of a unique teaching laboratory that will give students the opportunity to be taught in an integrated way across a range of key disciplines.
Named the Houston Laboratory, the lab will be realised thanks to a £250,000 donation from Newcastle University alumni Martin and Jane Houston.
Both undergraduates in Geology from 1976 to 1979, the couple said they were delighted to be a part of this new approach to teaching and research.
The couple said: "As we approach the 40th anniversary of our graduation from Newcastle University, we are fortunate to be able to help make this exciting project happen.
"We acknowledge the education that we received, and which launched successful careers for us both as geologists in the oil and gas industry.
"One Planet not only touches a key issue for our family foundation – sustainability - but it also heralds the long hoped-for return of Earth Sciences to Newcastle University, a place which has many happy memories for us both."
Revival of Earth Sciences at Newcastle University
The One Planet project coincides with a revival of the Earth Sciences undergraduate degree programme, which saw its first cohort graduate last month.
Geology teaching and research at Newcastle dates back to 1870 when the then College of Physical Science was set up in the Mining Institute at Neville Hall on Westgate Road.
Newcastle University is world-renowned as a centre of excellence for Geology. The mechanism, sea floor spreading, behind the concept of plate tectonics – how the Earth's crust moves and the science behind natural phenomena such as earthquakes and volcanoes - was first discovered here.
But the undergraduate degree programme ended in the late 1980s as part of the national Earth Science Review, which saw the closure of geology programmes up and down the country to focus resources.
Geology research continued to thrive and grow at Newcastle.
Three years ago, the Earth Sciences undergraduate degree was launched in recognition of the growing importance of this strand of research to the future of our planet.
"It was an extremely proud moment for us all to see our first students graduate," says Professor Manning.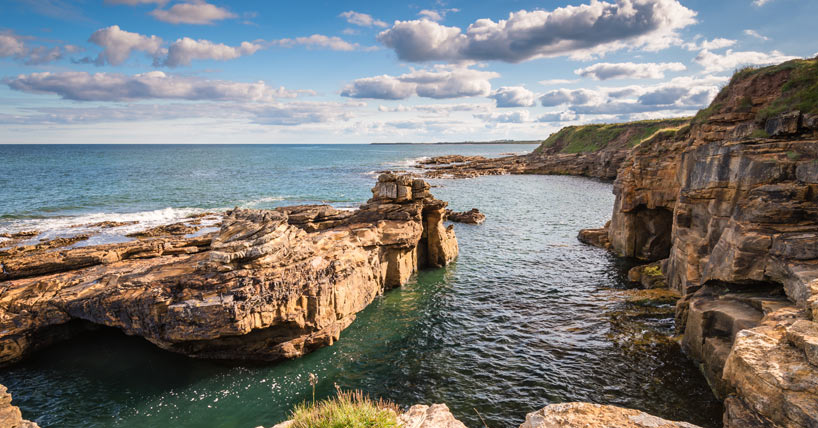 published on: 7 August 2018