High attendance at conference for problem solving around rural issues
20 October 2021
First 'rural catalyst' event hailed a success
More than 175 businesses, community groups and academic representatives met in-person and virtually at The Alnwick Garden to problem solve issues facing rural areas at the first Rural Catalyst Conference.
Delivered by the National Innovation Centre for Rural Enterprise (NICRE) and the Rural Design Centre Innovation Project, the event put a spotlight on the real-life issues that residents and businesses face in rural Northumberland and the partnership work taking place to tackle these.
It also provided an opportunity for those people to meet, speak to, and work with business support providers. The conference attracted more than 100 physical attendees and a further 75 joined virtually.
As Patron of the Prince's Countryside Fund, HRH The Prince of Wales has a keen interest in rural issues and opened the conference with a pre-recorded message outlining the importance of the work being done to highlight rural issues, and how events like this are a good way to come together to discuss solutions.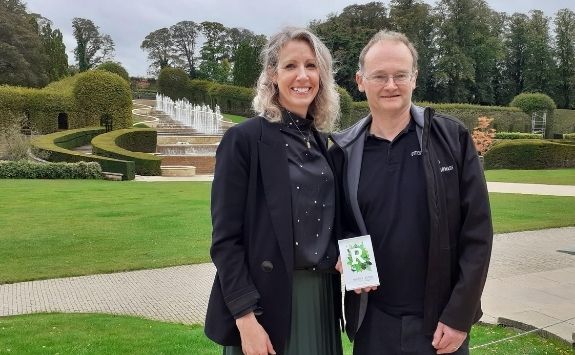 Enthusiasm and drive in the North East
Lord Curry of Kirkharle, an influential speaker on rural matters and Chair of the Prince's Countryside Fund, President of Community Action Northumberland and Chair of the Rural Design Centre (RDC), chaired the conference.
He said: "I am delighted that the first Rural Catalyst Conference was a huge success. It was brilliant to see so many people at the Alnwick Garden, in-person and virtually, and witness first-hand the enthusiasm and drive that exists in the North East to foster rural innovation.
"The issues facing our rural communities are of deep concern and it is only by working in partnership that we can tackle these. The conference was a celebration of that, and it was fantastic to showcase the many initiatives already taking place which are making a difference to the lives of people living and working in rural areas.
"The event also further demonstrated that the North East is at the forefront of this work and I will continue to take a keen interest in this as it progresses, while helping to promote the region on a national stage."
Delegates heard from a mix of speakers with wide and varied backgrounds, such as Sarah Dunning, who is the driving force behind the Westmorland family business which run Tebay and Gloucester services, renowned for focusing on local, rural produce. Sarah shared how they have been building on the foundations and concepts her father John started many years ago. For them, embracing change and shifting focus to diversification has enabled their business to go from strength to strength and she explained how the role they play in the local economy benefits the visitors to their sites and those around them.
Northumberland award-winner
Anna Price, co-founder of the Rural Business Group and Awards, delivered an inspirational talk on her role and the many amazing businesses she works with in. She also presented John Holt of Rothbury-based Otter Handmade with his 'Best Rural Start Up' award for the North Region 2021/22 (pictured).
Anna said: "I'm delighted to have been involved in the Rural Catalyst Conference. It's something that's really important and close to my heart helping to shine a light on rural businesses and how they impact our rural communities. It was great to finally get everybody together, from different organisations, policy experts academics and real rural businesses as well."
The conference was also joined by Tom Heap, best known for his appearances on BBC Countryfile, who shared details of his current work; looking at the ways we can make changes to our everyday living to reverse damages to our fragile ecosystems and described how he sees the future of the British countryside.
The day's agenda culminated in attendees working together in four different workshops to delve deeper into some of the topics of the day and gave an ideal opportunity to generate ideas to take forward for future projects.
If any business or organisation would like to know more about any of the topics covered during the event, please visit NICRE's or RDCIP's webistes, or contact nicre@newcastle.co.uk or rural-innovation@advancenorthumberland.co.uk