NICRE organises expert session at the INNOGROW Final conference
3 December 2020
Final event conference of the INNOGROW project
NICRE organised a special session on rural enterprise at the final event of the INNOGROW project, which considers the competitiveness of Small and Medium sized Enterprises (SMEs) in rural areas. Jeremy Phillipson and Matthew Gorton, the Director and Deputy Director of NICRE respectively, lead the Newcastle University team in the INNOGROW project, which is financed by the Interreg Europe programme.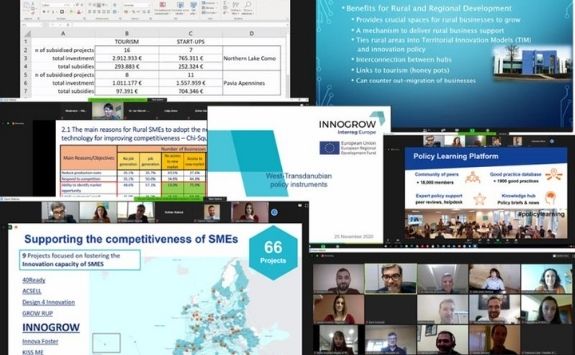 Expert sessions
Newcastle University is the only academic partner in the project, with the other partners being managing authorities & regional bodies influencing regional and national policy instruments. Newcastle University's involvement in INNOGROW is to facilitate exchanges between academia and practitioners, sharing experiences and practices, to improve capacity to implement policies that promote the adoption of technology and business model innovations by rural SMEs.
The expert session was designed to exchange ideas on how to improve rural business performance. The session heard from three speakers prior to questions and responses from business practitioners and policy makers.
Dr. Ian Merrell (University of Exeter) presented how enterprise hubs can aid rural business performance, especially for new and existing microbusinesses wishing to grow. Ian discussed what factors determine whether a rural enterprise hub is successful or not and how they can be best designed to succeed. Dr. Pattanapong Tiwasing (Coventry University) presented analysis of survey data, collected as part of the INNOGROW project, on new technology adoption by rural SMEs. This identified the main reasons for new technology adoption by rural SMEs, the problems encountered, and the outcomes achieved. Finally, Prof. Matthew Gorton (Newcastle University) offered initial thoughts on the impact of Covid-19 on rural business models and implications for start-ups looking ahead post-Covid recovery. He discussed emergent strategies and the importance of experimentation by rural businesses to find viable business models in the post-Covid environment.
At the final event, participants heard also from INNOGROW partners on the implementation of their action plans for supporting the competitiveness of rural economies. Further information on the final event is available on the INNOGROW website.