Rural conference brings businesses and communities together
16 September 2021
Event to be held in-person and virtually
Innovative businesses and rural community groups are invited to attend an event next month to shine a light on issues facing the rural economy.
The National Innovation Centre for Rural Enterprise (NICRE) and the Rural Design Centre Innovation Project (RDCIP) are working in collaboration to deliver a full-day conference at The Alnwick Garden.
With high-profile speakers, the event will bring together organisations and individuals with an interest in rural innovation and enterprise, with the aim of strengthening local networks, highlighting rural issues and working together towards viable solutions.
Taking place on Thursday 7 October 2021, attendees will hear from a range of industry professionals and work alongside them on issues that are currently facing rural communities and affecting rural businesses - register for the event.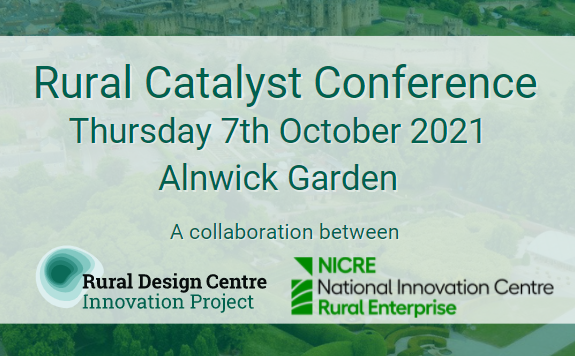 High-profile speakers
The event will be chaired by Lord Curry of Kirkharle, Chair of the Prince's Countryside Fund, President of Community Action Northumberland and Chair of the Rural Design Centre (RDC), as well as being a nationally influential speaker on rural matters.
According to Lord Curry, the conference demonstrates a new focus on rural innovation. He said: "The issues facing rural areas have been well documented over the past decade. There are, though, numerous opportunities to use technology, innovation and new ways of thinking to tackle these issues and realise the potential for sustainable growth.
"I am hugely excited to see this agenda being led out of my home area, the North East of England, through establishment of the RDC and NICRE. I'm looking forward to the conference as a celebration of what's already happening here but also to look forward to a brighter future for rural England."
There will also be a range of inspirational speakers sharing details of their own rural experiences. These include Sarah Dunning, Chief Executive of Westmorland Ltd, who revolutionised roadside services by turning Tebay into an award-winning destination focused on sourcing from local, artisan producers, as featured on 'A Lake District Farm Shop' on Channel 4. The BBC's Rural Affairs Correspondent and regular contributor to Countryfile and Panorama, Tom Heap, will be sharing his insight and Jemma Clifford and Anna Price, founders of the national Rural Business Awards, will be describing some of the innovative ideas they've seen across the UK.
Register your interest
The event will move to looking at four key challenges which face rural communities – transforming market towns, net zero, rural mobility and landscape use – giving local businesses in attendance the opportunity to work directly alongside industry professionals and academics from both Newcastle and Northumbria Universities to share their own experiences and help to shape future activity in these areas.
There is no cost to attend the event and businesses and community groups can register their interest online.
We're conscious that some people will be more confident attending physical events at the moment than others, given the continuing impact of Covid-19. With this in mind, we are intending to deliver the Conference both online and in person, depending on the public health situation and level of demand. Please let us know which method you would prefer when you register. To find out more or to register your interest in attending, please visit the RDCIP events page.
The event is part-funded by the European Regional Development Fund (ERDF) as part of the England European Structural and Investment Fund Programme 2014-20, part-funded by the North of Tyne Combined Authority and part-funded by NICRE and Research England.
For more information about NICRE email nicre@newcastle.ac.uk. To keep up to date, for updates or follow on Twitter, LinkedIn or Facebook.