NICRE supports National Rural Conference 2021
2 September 2021
Contribution of rural enterprise to Levelling Up
The National Innovation Centre for Rural Enterprise (NICRE) is supporting the National Rural Conference 2021 this month and leading the rural economy session.
The conference, run by the Rural Services Network (RSN), takes place 13-17 September, and comes at a significant time for rural areas as the country starts to build on the first steps towards recovery from Covid-19.
The theme of the conference is 'Levelling Up to Revitalise Rural' and it will examine a range of issues affecting rural communities with a host of speakers.
NICRE's session 10am-noon on Tuesday 14 September will explore the contribution rural enterprise can make to Levelling Up as set out by its briefing paper published earlier this year. It will also trail further evidence and consider the implications for government and local communities.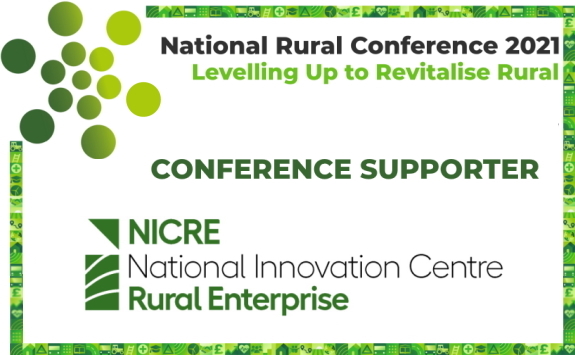 Major event for rural areas
Prof Jeremy Phillipson, director of NICRE, said: "We are delighted to be supporting and contributing to this year's National Rural Conference which is a major event for those with an interest in rural areas.
"One of our aims is to provide evidence to inform better policy. Our research shows that Levelling Up should include the nation's rural economies and their contribution to the prosperity of communities.
"While we acknowledge that they are an element of the challenge, rural economies can also be part of the solution for revitalising rural and non-rural areas.
"With such a strong focus politically on Levelling Up, it is a key time for these discussions to bring greater recognition for the potential of rural economies in this debate."
Speakers at NICRE's rural economy session include Prof Phillipson, co-director Prof Janet Dwyer and rural economies consultant Roger Turner as well as contributions from Community Action Northumberland, the Plunkett Foundation and Torridge District Council.
Maximise this opportunity
Councillor Cecilia Motley, chair of the RSN, said: "It is vital that we maximise this opportunity to bring together rural local authorities and organisations to discuss and debate the key issues facing rural communities at this time.
"Only by joining together can we ensure that the rural voice is strong enough to be heard."
As well as the rural economy, the conference will highlight:
Rural digital connectivity
Rural health and care
Rural affordable housing
Rural transport and decarbonisation
In addition, it features 'An Audience with a Minister', with Lord Benyon joining delegates for a special session on Monday 13 September.
The conference is open to members of the RSN and is aimed at senior members and officers from rural local authorities and all other colleagues working for organisations delivering services in rural areas.
For more information about NICRE email nicre@newcastle.ac.uk. To keep up to date, for updates or follow on Twitter, LinkedIn or Facebook.