Prof Andy Husband appointment
Prestigious position for Head of Pharmacy
Published on: 4 December 2020
Head of the School of Pharmacy has been appointed the chair of a national society to lead its Education and Standards Committee.
The Royal Pharmaceutical Society of Great Britain has given Professor Andy Husband the position for 2021.
Professor Husband, who joined Newcastle University in 2017, will take on the role having been an existing member of the Society. The role was previously held by Raminder Sihota and Peter Kopelman.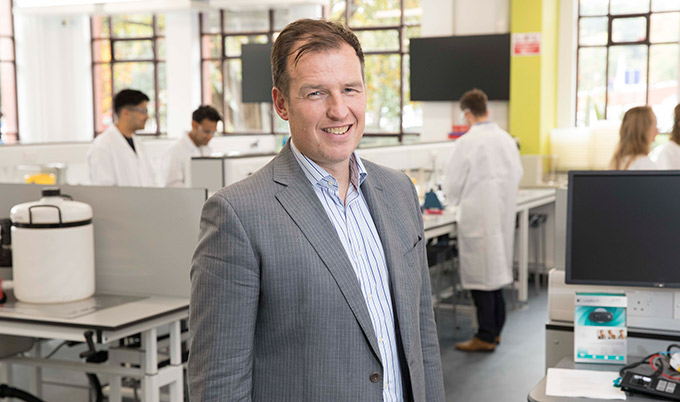 Exciting time for profession
Professor Husband said: "I am delighted to have been appointed as the new Chair of the Education and Standards Committee at the RPS. 
"It's an exciting and dynamic time for pharmacy at all levels of the profession and I look forward to leading the committee to support the RPS in achieving their vision to support pharmacy education."
The Education and Standards Committee provides expert advice and makes recommendations to the RPS Education and Professional Development directorate, reporting directly to the RPS Assembly.
Gail Fleming, Director for Education at RPS, said: "Congratulations to Andy on his appointment as the new Chair of the Education and Standards Committee. 

"This is an exciting and important period in pharmacy education, and we are delighted to have a new Chair with a passion for education as well as the wealth of experience and expertise that Andy brings. 
"The committee will play an important role, working closely with RPS Boards and Assembly, in the delivery of the RPS strategy relating to the education and professional development of the existing and future workforce."
Key interests
Professor Husband moved to Newcastle University from Durham University where he was a Dean, responsible for the design and development of Pharmacy.

His research interests lay mainly in the safe and effective use of medicines. His currently focus is on research around deprescribing of medicines in older patients with frailty, as well as the role of IT in health, particularly to support prescribing. He is currently working on projects examining the barriers to accessing medicines review services for patients from ethnic minority communities.

He is also interested in ensuring an integrated approach to the curriculum so that students take a multi-disciplinary approach to address the type of complex problems that they face in the practice environment. 

---
Latest News