Dr Alastair Cole
Lecturer in Film Practice.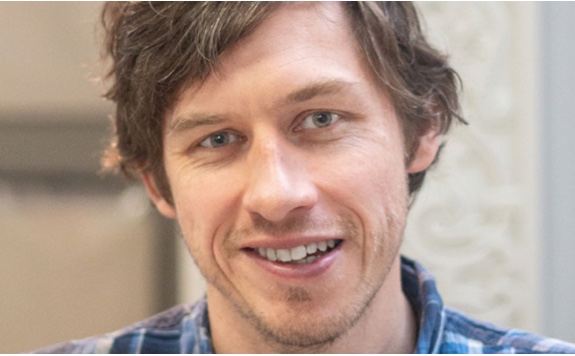 Background
Alastair is a Lecturer in Film Practice. He is a documentary filmmaker and practice based researcher, with his current work focusing on inquiries situated within linguistic anthropology, social linguistics, multilingualism, and language rights, as well as elements of documentary film practice, including subtitling, translation and editing. His work aims to embrace the potential of creative documentary film as a uniquely valuable, public facing research methodology, and one that can foster new insights into humanities research related to the social and political aspects of language use.
His current research includes the Screen Scotland, BBC and ESRC funded project Iorram (Boat Song) exploring the relationship between Scottish Gaelic and fishing in the islands of Outer Hebrides of Scotland, with the feature length documentary film being released and broadcast in 2021. His previous feature documentary film, Colours of the Alphabet (2016), premiered at the 2016 Glasgow Film Festival. It was shortlisted for best newcomer at the 2016 Greirson Awards, and has since had over 40 international festivals screenings, and has been released across Africa in 30 languages. The film is the major output of a research project focusing on themes of multilingualism, childhood, mother-tongue education and minority language rights in Zambia. It is also the centre of the international impact project focusing on indigenous language film translation, through subtitler training and Africa wide film distribution and resulting in the release of the film across Africa in 30 languages, as well as launch of the African Film Translation Network. You can read more about the film project, and see the latest screenings and release information on its website, or its Facebook and Twitter pages.
Alastair's previous films have screened at festivals around the world, including twice at Cannes Critics Week, and have been broadcast in 26 countries. Further to his documentary film practice, Alastair has led projects which engage with traditional music and live cinema scores. His written scholarship engages with both documentary film practice, and the themes of the research inquiries of his work.
Alastair holds a Ph.D in Trans-Disciplinary Documentary Film from The University of Edinburgh, Scotland, as well as an M.Sc (Distinction) in Social Anthropology (Edinburgh) and B.A and B.Com (Otago). He has worked as a documentary film maker in Scotland, across Europe - including Italy, Finland and the Balkans, as well as in Zambia and South Africa. He previously taught at Edinburgh Napier University, The University of Edinburgh and as a guest lecturer at Shanghai Normal University.
You can see more about Alastair's work at www.tonguetiedfilms.co.uk and find him on Twitter at @TongueTiedFilms.
Research
Research interests include:
Film-based research as a means of exploring subjects within the humanities and social sciences.
Documentary film practice, history and theory.
Accessibility and subtitling in documentary film.
Indigenous language use, and its translation in film production and distribution.
The use of sound archive within film practice.
Linguistic anthropology, social linguistics, language ideologies as well as their filmic representation.
The capacity of film scoring engagement with traditional folk song and music.
I am interested in supervising PhD projects in areas related to these, as well as any practice based PhDs using documentary filmmaking (see our PhD in Film Practice for more information), especially those with strong intersections with subjects related to anthropology and cultural studies.
Current and recent research projects:
I am currently continuing my creative documentary film based exploration of subjects and themes emerging from linguistic anthropology - exploring how creative documentary filmmaking can research subjects related to our use and value of language. Recent projects have seen me filming the bow of prawn trawlers in the North Atlantic - exploring relationships between Scottish Gaelic and fishing communities in the Outer Hebrides - as well as filming for 12 months in a rural Zambian classroom - researching the experience of minority language speaking primary school student as they embark on their first year of school in a language they don't speak.
Further to my film based projects, I have recently led an ESRC funded indigenous language subtitling and translation international impact project, which saw my latest feature film translated, subtitled and released into 30 African language and the development of the first African Film Translation Network. I have also recently completed a film scoring practice based research project exploring the capacity of Italian folk music and song to reimagine and re-voice silent cinema. My writing covers a variety of areas related to my practice, including film impact pathways, documentary film editing and non fiction narrative construction.
More details on current and recent research projects:
Iorram (Boatsong) (2018 - 2021)
Feature length (96min) creative documentary film based research project into the relationship between oral history, Scottish Gaelic and the fishing communities in the Outer Hebrides, Scotland. The project aims to simultaneously research the creative potential of restored sound archive to reconstitute and historically position contemporary observational moving images alongside its linguistic anthropological research inquiries. The film is currenly in post production with its broadcast and festival release due for late 2020 and early 2021. For more information see here.

The film is being made in association with, and has received financial support from Screen Scotland and BBC Alba.
The film's development has been supported by Economic and Social Research Council (ESRC), a Newcastle Institute for Creative Arts Practice (NICAP) Pioneer Award, and a Newcastle University School Strategic Research Award. It is also beiing produced in collaboration with The University of Edinburgh and Bofa Productions.
Muir ar n-athraichean (Our Fathers Sea) (2017-2019)
Short (5min and 12min) impact documentary film based investigations into the relationship between the Gaelic language preservation and the Hebridean fishing communities n the Outer Hebrides. Muir ar n-athraichean (Our Fathers Sea), (2018) and is currently screening at festivals, it won the 2019 BBG FilmG award 'Film Dùthchais as Fheàrr' award, was screened on BBC in Feb 2020, For more information see here
The project has received funding from an ESRC Impact Grant.
African Film Translation Network / Colours of the Alphabet International Impact Project (2018-2019)
This impact project and web based network, culminated in the launch of the African Film Translation Network website in 2019 as well as the release of my film Colours of the Alphabet in 30 languages across Africa in 2018. I was the P/I with professor Nick Higgins from the University of the west of Scotland for both elements of the project. The website provides the first network and online platform for film producers to reach out to African indigenous language subtitler's and film translators to help get their content and films translated into African languages and viewed by audiences across the continent. The project was the final output of the Colours of the Alphabet International Impact project, which included the translation of the film into 30 indigenous African languages (a first for documentary film) in preparation for its Africa wide release on AfriDocs. The impact project also included the training of 60 Africa based, African language speakers in subtitling stills, as well as the continent wide #mytonguemystory campaign, giving African viewers the chance to share their own stories of language and education. See www.subtitlingafrica.org for the network website.
The project and network's creation received financial support from an ESRC Impact Initiative Award, ESRC follow on funding, and a Newcastle University School Strategic Research Award.
Assunta Spina Live Score (2018-2019)
This live score based music and film practice based research project exploring the capacity of traditional folk music, including the use of live vocals, to reimagine the 1915 Italian silent film Assunta Spina. I was the lead researcher, co-composer, co-arranger and one of the performers of the score. The project had its premiere as part of the 2018 Glasgow Film Festival and has since toured around UK over 2018 and 2019, with performances at cinemas, music venues and film festivals. The project has also provided the basis of events exploring the previously invisible role of female filmmakers in cinema history. The project is being recorded for release in November 2019. More information on the project can be found on the Tongue Tied Films website.
The project was awarded financial support from the Glasgow Film Festival, PRS Foundation's The Open Fund for Organisations, Film Hub North (part of BFI's Film Audience Network and funded by BFI and Creative Scotland ), Mazzini Garibaldi Foundation, and the Italian Cultural Institute Edinburgh.
Colours of the Alphabet (2012-2017)
A Feature Documentary film based research project focusing the experience of non mother-tongue education in primary education in rural Zambia, and highlighting the global issue of the lack of mother tongue education for 40% of the worlds population. The project also sought to focus on the ability of creative subtitling to reveal complex multilingual contexts in film, and the capacity of creative documentary film practice to uniquely reveal aspects of linguistic anthropology research. Filmed over 12 months in a rural, grade-one, Zambian classroom, the resulting 80-minute feature documentary Colours of the Alphabetwas released early 2016 at the Glasgow Film Festival, and since had 40 film festival screenings, as well as cinema releases in the UK and Zambia. It has been broadcast in 30 languages, across 52 countries, and is currently available on DVD, BluRay and VOD internationally. The film has won a variety of awards, including being nominated for a 2017 Grierson Award. Writing outputs related to the project have covered the research methodology, editing approaches, and impact pathways. More on the film output at www.coloursofthealphabet.com or on its Facebook and Twitter pages.
The project was awarded financial support from the Creative Scotland Film Development and Production Fund. The project was developed with the support Scottish Documentary Institute's InterDoc Programme, European Documentary Networks Twelve For the Future and Berlinale Talents. It was produced in collaboration with Lansdowne Productions and Professor Nick Higgins at the University of the West of Scotland.
Teaching
I module lead and teach on:
MCH 2086 - Analysing Documentary Practices.
MCH 2082 - Making a Short Documentary.
I also teach sessions on:
MCH 1038 - Introduction to Documentary Film.
MCH 3084 - Final Film Practice Project.