Roles in the Community
Connecting with our community clubs and partners to support delivery off campus
Supporting community and grassroots sport
Giving back to the community is a fantastic thing to do, not only do you get a real feel good factor but you can gain invaluable skills and network opportunities.
Providing opportunities through our partner clubs and organisations we guarantee you will have a great experience.
Check out the current opportunities from the list below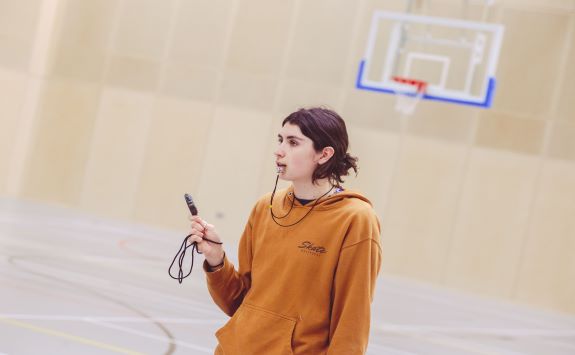 Football Referee (Northumberland FA)
Grassroots football in Newcastle is huge, there are a number of opportunities to support the male and female game through a full range of age groups with many fixtures taking place on Newcastle University facilities or locations nearby. We can connect you with Northumberland FA and get you involved. For more information get in touch using the details below.
Are you interested in becoming an offical?
We can provide funded opportunties to access referee courses. In return, we ask that you support the Intramural programme and can also connect you with local governing bodies to officiate in the community. For more details on funded courses contact us on the details below.
Contact
Liam Isaac; Partnership & Development Manager
Rugby Referee (Northumberland RFU)
If you are a qualified rugby referee and want to officiate during your time at Newcastle we can connect you to Northumberland RFU Referee Society.
Interested in becoming a rugby referee?
We offer a limited number of fully funded places to receive your referee badges. In return we ask that you regularly make yourself available to officiate Intramural Rugby matches across the season. For more details contact us.
Contact
Liam Isaac; Partnership & Development Manager
Football Activator - Weetabix Wildcats (Northumberland FA)
This voluntary opportunity supports grassroots football clubs deliver sessions to girls aged 5-11 years old. We will connect you with clubs in the Newcastle area who require regular suport. This is a fantastic opportunity for those looking to get into coaching and build up your portfolio.

It is a requirement to complete your FA Playmaker course, a free online introduction to football course. You must also complete a DBS and safeguarding training, costs will be covered in return for regular involvement.
Contact
Liam Isaac, Partnership & Development Manager
Community Mission Runner (GoodGym)
GoodGym makes it easy to get fit by doing good. The main way we do this is by running to a community project, helping them out with a task for an hour (max) and then running back, simple! We have a variety of different Community Missions lined up over the coming months, including helping out at the local foodbank, delivering leaflets on behalf of a new charity in the West End of Newcastle and painting at Recyke Y'Bike in Byker.
Into Schools
Into Schools is an outreach project aiming to raise aspirations, encourage students to think about Higher Education and showcase the 'real student experience'. Volunteering in schools is a fantastic way to gain experience working with children, develop important employability skills, as well as giving back to the community. There are a number of different ways that you can get involved with volunteering in schools whether it's delivering an outreach sport session as part of a club, visiting your old school to talk about your experiences or sharing your subject expertise to support GCSE or A-Level students. You may even have your own unique idea about an outreach project!
For more information or to register your interest click here
N.E.S.T - Refugee Children in Schools
Volunteer to deliver sports for refugee children in schools with N.E.S.T
The N.E.S.T Schools Programme supports refugee and asylum-seeking children in local primary and secondary schools with integration and English. We are looking for volunteers to run after school sports clubs which will allow the children to be active and aid language skills. Timings for sessions will be approximately 2:30-4:30pm to fit with after school clubs and there is flexibility on level of commitment needed. No previous experience working with refugees/ children needed, training and DBS checks can be completed with N.E.S.T.
Please contact Ellie to find out more information on how you could get involved nestschools.union@newcastle.ac.uk
N.E.S.T - Refugee Youth Rowing
Volunteer with a refugee youth rowing team with N.E.S.T
Teenagers from N.E.S.T have joined Tyne Rowing Club Junior Squad and we are recruiting volunteers to come and support the young people to join in with both the land and water training. Sessions run on Thursday evenings 5 - 8pm and on Sundays 2-4pm. No rowing experience is needed but ideally volunteers are happy to join in and learn alongside the children. No previous experience working with refugees/ children needed, training and DBS checks can be completed with N.E.S.T.
If you're interested please contact Bridget to find out more information on how to get involved nest.union@ncl.ac.uk