Wallis (Peter) Collection
Subject strengths: Science, Mathematics, Education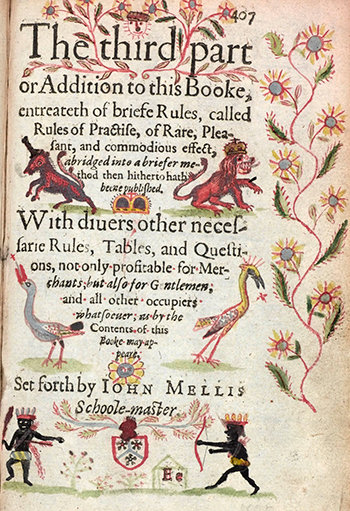 The Wallis Collection contains books on mathematics and maths education and includes works by Robert Record (the man who introduced the = symbol), such as The grounde of artes: teaching the perfecte worke and practise of arithmetike (1582) and works by and about Isaac Newton, such as Newton's Principia in its first American edition (1846).

The books were formerly owned by Peter Wallis (1918-1992), a lecturer in the School of Education. There are almanacs, works on algebra and geometry, school text books, works on astronomy including J.F.W. Herschel's Astronomy (1835), guides to measuring, book-keeping, ready reckoners, treatises, Euclid's Elements and manuals.
Collection Name and Collection Reference Code:
Collection Name: Wallis (Peter) Collection
Library Search Collection Ref Code: Wallis
Date Range of Material
1582 - 1990
Type of Material
The personal library of Peter Wallis
Size of Collection
60 Linear Metres of shelving
How To Order Items From This Collection
The books within this collection are described within the Newcastle University Library Search and can be ordered directly from the catalogue.
This link to the Library Search will show a list of all the items within the collection. Please note this link is available to members of the public as well as University staff and students.
You can then place your order by linking to our Request Form.
Digitisation Service
If you are unable to visit our reading room, we also have a digitisationservice.
Other Resources
See Wallis (Ruth and Peter) Archive for archival material related to Peter and Ruth Wallis.