Culture and creative arts
Our cultural practitioners are contributing to the climate change debate through creative writing, film, fine art, exhibitions and more.
Engaging communities with challenges facing our world
Climate change is complicated and can often feel as if it is happening far away. But it is part of our everyday lives and its impacts are all around us.
Our cultural practitioners are working with communities here in our region and around the world to explore climate change.
They're using art, film, photography, creative writing and more to engage people young and old with the challenges facing our planet.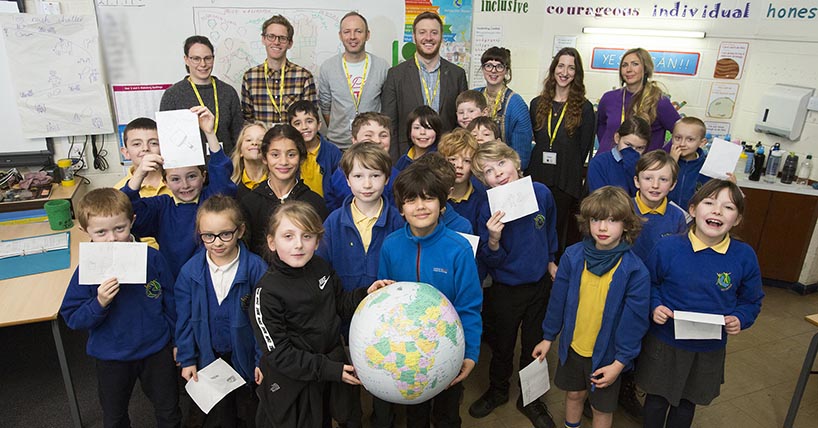 Murmuration
Murmuration is a collective film poem for our times; an inventory of what really matters, celebrating our love for the natural world in a time of Climate Crisis and Coronavirus. The Murmuration project is part of Writing the Climate, poet Linda France's residency at New Writing North and Newcastle University.
Climate Change Catastrophe
A new six-part series all about what children think about climate change - their hopes, fears and ideas for the future. Made by children for grown-ups, it will give you inspiring perspectives on one of the biggest challenges of our time. All episodes are available to watch on Cap-a-Pie's YouTube channel.
Writing the Climate
Poet Linda France and artist Christo Wallers are inviting people to contribute to a collective sound poem, entitled 'Dawn Chorus'. It will be launched at Durham Book Festival.
With producer Philippa Geering, Linda is also creating a podcast series, In Our Element, programmed to air in time for COP26.
Story:Web
Help the Great North Museum tell the story of climate change by contributing to Story:Web. This digital platform tells stories around climate change using museum objects, sounds, images and words.
During COP26, Story:Web will form part of the Reimagining Museums for Climate Action exhibition at Glasgow Science Centre.
ENERGIES
Blyth, on the North East Coast, was once believed to be the busiest coal port in the world. It was also a centre for shipbuilding and coal mining. Like many towns in the North East and beyond, these traditional industries have disappeared and are being replaced by new ones. ENERGIES is an exhibition exploring how the community of Blyth is reacting to these changes.
Jetty Project
Centred around the creation of large-scale architectural artworks in the context of the Dunston Staiths on the River Tyne, this project explored how practice-led fine art can contribute to the debate around sustainability in the urban realm.
Fire Complex
An exhibition in the aftermath of a fire in a Giant Sequoia grove that destroyed a community and 170,000 acres of ancient forest. It charts the impact on the community and the gigantic task of the clear up process after the fire. Fire Complex aims to raise momentum and resources for future fire prevention and regeneration.
Living Deltas Hub
We are working with contemporary creative practitioners in three major Asian deltas to address cultural issues impacted by climate change, including threats to honey gatherers and changing relationships and values towards water.
Polluted Leisure
Based on lifelong experiences of pollution in post-industrial coastal communities in North East England, this project looks at the ethical challenges of living alongside, and sharing our leisure pursuits, with pollution.