START UP success stories
Our students and graduates have launched thriving businesses, thanks to the support available from Newcastle University.
Signing up tennis star Sir Andy Murray could prove a match-winning strategy for the sportswear company Castore co-founded by Newcastle University graduate Philip Beahon.
Scottish ace Sir Andy, a three-time Grand Slam tournament victor and two-time Olympic champion, will not only don Castore's premium men's sportswear – he will also be on the board and is a shareholder in the business.
Castore, which is currently enjoying 100% year-on-year growth, was awarded one of the University's START UP Founderships.
Since they were introduced in 2014, 28 businesses, operating in a range of industry sectors, have been awarded Founderships. They have created close to 100 jobs and have a turnover of more than £11.1m.
Support and funding
START UP helps current students and recent graduates (up to three years) who want to work either as an independent professional without employees, or start a company with employees.
Besides providing co-working space, there's one-to-one support from a team of advisers, alumni entrepreneurs and a network of industry experts, investors and influencers.
Being awarded a Foundership means access to a maximum of £17,500. That's up to £10,000 development fund and a £7,500 stipend to support living expenses (£11,250 for co-founders). It is funded solely through donations.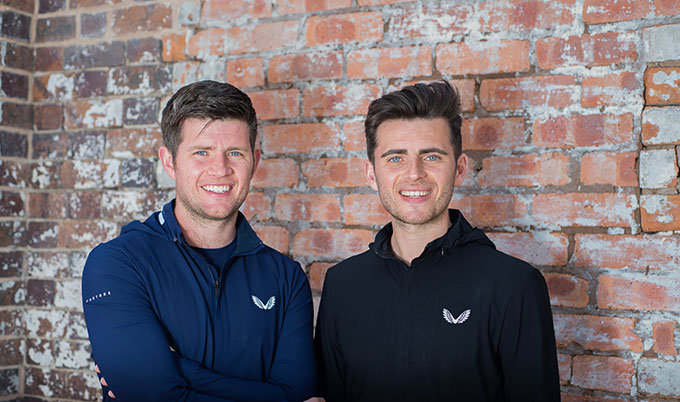 Philip, who studied law at Newcastle between 2011 and 2014, says: "The Foundership was genuinely integral in helping Castore get off the ground.
"It taught us a number of valuable lessons and also helped introduce us to our first investor, who has invested in all three rounds of funding since."
In fact, a total of around £8m external investment has so far been raised for the fledgling companies that have been awarded a Foundership.
Philip, on the right of the picture with his brother, Tom, adds: "I think it is vital that Newcastle University continues to support entrepreneurs and gives students the opportunity to explore ideas."
START UP also provides eligible international graduates with up to two years' leave to remain in the UK to start a company.
More than 50 such graduates have followed this route, and many have gone on to secure extended leave to establish their businesses.
High energy
Indian-born Johnson Fernandes, who is also a beneficiary of a Foundership, gained both a Master's degree and a PhD (the latter in electrical and electronic engineering) during his time at Newcastle between 2009 and 2016.
The company he started, Equiwatt, has developed a system that tracks household energy consumption and automatically switches off household devices to save energy during peak times when electricity supply is inefficient and expensive.
The idea came to him while studying his bachelor's degree in India, where power outages were not uncommon. He said: "I realised that balancing supply and demand of energy was a global problem. The UK, for example, spends billions on protecting the grid from blackouts and power outages."
It is a fantastic start-up opportunity for young entrepreneurs with bold ambitions, but who don't know where to start. For me, it provided the balance between coaching and independence.
Equiwatt's intelligent energy management platform can coordinate usage across thousands of households, says Johnson, cutting the cost of peak-time energy and reducing the CO2 impact as well.
Johnson is full of praise for Founderships. He said: "It is a fantastic start-up opportunity for young entrepreneurs with bold ambitions, but who don't know where to start. For me, it provided the balance between coaching and independence to enable me to grow into a technology entrepreneur."
Equiwatt's system is currently undergoing trials in 50 homes in the North East and the technology is also being tested using real-time electricity network data from substations in the South West.
Employing students
Many of Newcastle University's student and graduate start-ups employ graduates or tap into another scheme called NCL Internships. It provides businesses across the North East with the opportunity to make use of Newcastle University's talented students within a project-based internship.

Claire Adamson, Start-up Manager at Newcastle University, said: "We can facilitate the internship, providing all the administrative support so the student doesn't have to be employed by the business, and funding may be available through our Careers' Service to subsidise part of the student bursary."

Equiwatt supported two student internships last year and this year has recruited a full-time marketing intern for five months. Castore currently employs one former Newcastle University student full-time as its Operations Director, while three more have previously been part of the business as interns.

Claire says: "We introduced Founderships as part of START UP because we recognised we were losing high-potential entrepreneurs who had to get a job or move back home in order to support themselves. The support we provide through START UP is our contribution to what is a growing, vibrant start-up scene and a culture of innovation in the North East."

<!—- v2 PROMO PANELS - END -->