REF 2021
Welcome to Newcastle University's REF 2021 website. It summarises our submission to Research England's Research Excellence Framework in March 2021.
REF2021 confirms growth in research excellence and impact at Newcastle
The national assessment of research performance has reported world-leading research with outstanding impact for society and the economy across all disciplines at Newcastle University.
The results show that the University's research capacity - or 'power' in REF terms - has grown by 65% since 2014. 42% of our research was scored as world-leading up from 31% in 2014.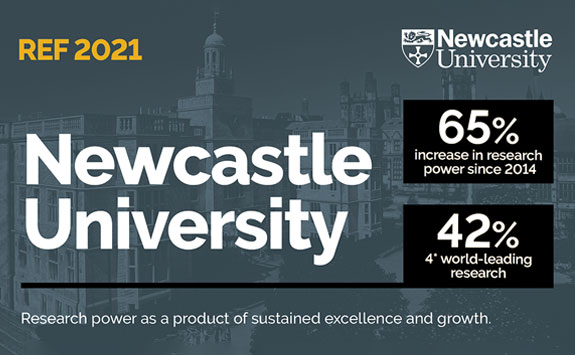 Scope and scale
The REF 2021 website describes the excellence of our research environment, outputs and impact since the previous REF in 2013/14.
Over the course of the REF cycle (2013-2020) we have grown our:
turnover from £405m to £571m per annum
research income from £93m to £109m
student numbers from around 22,800 to over 29,000
We have contributed more than £1bn to UK GDP and supported 16,390 UK jobs.