Art on Campus
Our campus is home to numerous exciting art pieces, ranging from sculpture to mosaic.
Clasp
Artist: Antony Gormley
Location: King's Walk, between the Students' Union and Northern Stage

Gormley's 'Clasp' is a 4.4-metre-high cast iron sculpture. It depicts two bodies holding each other and is part of the artist's 'Double Blockworks' series. The sculpture is of 18 individual blocks and cast as one single element in spheroidal graphite iron.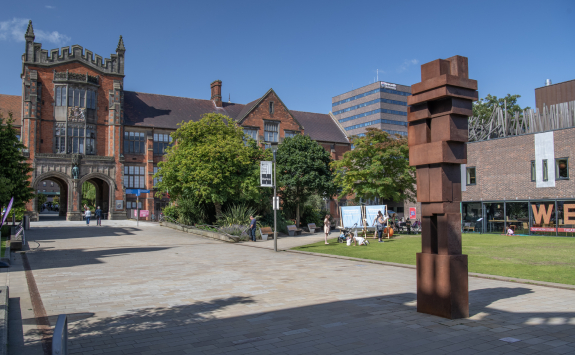 Welcome to the Palindrome
Artists: Bridget Jones and Linda France
Location: Hadrian Bridge pedestrian tunnel

A playful integration of image and language. A single word is printed onto each of the 26 panels. You are invited to read the words as a complete poem as you pass through the tunnel from either direction.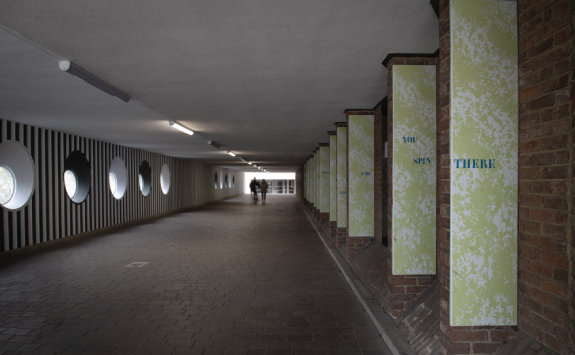 Pentad
Artists: Bill Herbert, Professor of Poetry and Creative Writing at Newcastle University, and graphic designer Colin Hagan
Location: Outside the Philip Robinson Library

An intriguing text-based work in which small bronze pentagram forms are embedded into the ground and enclosed by seating. Within each pentagram, five poetic lines swirl into a centre point. Start the poem at any point and follow it round.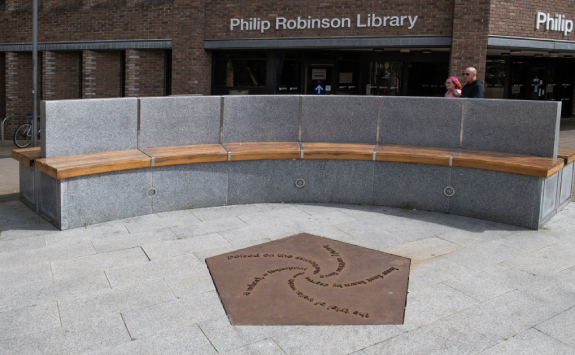 Spiral Nebula
Artist: Geoffrey Clarke, RA
Location: in front of the Herschel Building

Spiral Nebula is an important example of post-war 20th-century public art. It was originally commissioned in 1962 by the architect Sir Basil Spence, to be permanently sited in front of the Herschel Building to complement its modernist architecture. The sculpture can be taken as a symbol of scientific advances in the 1960s and reflects the subjects being explored in the Herschel Building's physics department at that time. In 2012 conservation of the sculpture was undertaken by Geoffrey Clarke's son, Jonathan. This was supported by the Henry Moore Foundation, INTO Partnership and the Catherine Cookson Foundation.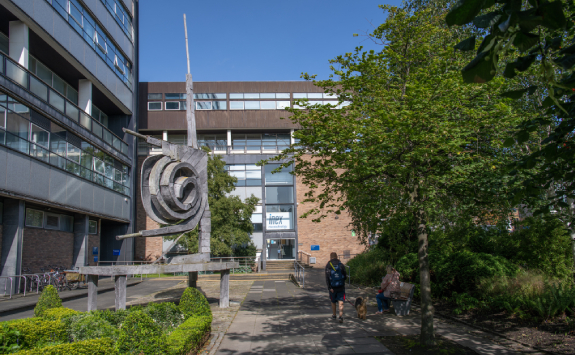 Unity
Artist: Dr Lilian Nabulime, Newcastle University Fine Art graduate
Location: Devonshire Building foyer

Unity comprises three figures carved from the trunk of a sycamore tree that stood on the site now occupied by the Devonshire Building. The sculptures are on permanent display in the Devonshire Building. The artist remarked that the sculptures' themes were appropriate to sustaining our environment.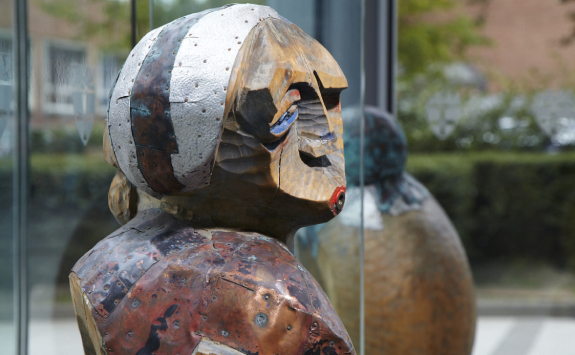 Three Mosaic Murals
Artist: Dorothy Annan
Location: Embedded into the high exterior walls of the Courtyard Restaurant, Old Library Building

The three marble mosaics were commissioned in 1958 by the architects Easton and Robertson who were building the King's College Library extension, now named the 'Old Library Building'. The abstract figures each symbolise a different theme: 'Space Travel', 'Mining' and 'Architecture'. Dorothy Annan was a talented English painter, potter and muralist. Many of her tile murals have been destroyed; this commission is one of only three surviving murals by Dorothy Annan.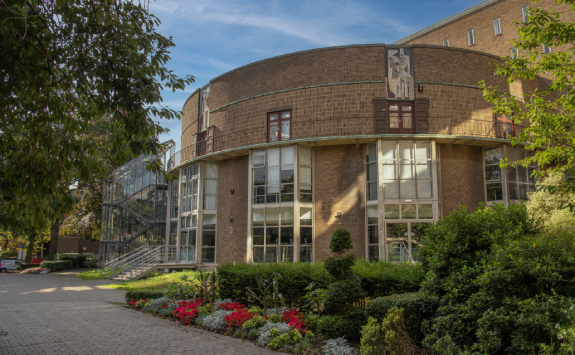 Generation
Artist: Joseph Hillier, Newcastle University Fine Art graduate
Location: Student Forum

Generation (2005) is an impressive group of three large sculptural human heads. They are rendered in bronze, Corten steel and stainless steel and are reminiscent of three different eras of human and industrial production. The bronze head recalls early metalworking in the North of England. The Corten steel head, with a rust-like appearance, recalls later advances in industry, while the stainless steel head, formed by a network of welded steel rods, resonates with the modern digital age.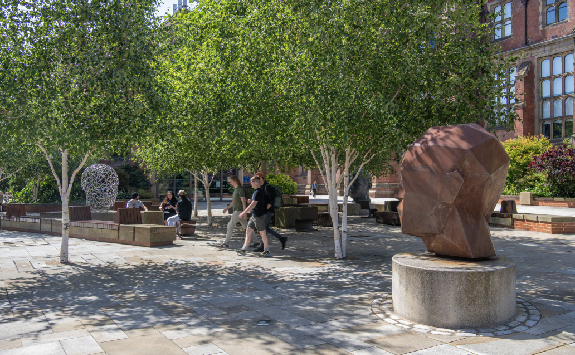 Dr Martin Luther King Jr.
Artist: Nigel Boonham
Location: King's Quad courtyard next to the King's Hall, the setting for Dr King's honorary degree ceremony 50 years ago

The two-metre tall bronze statue was specially commissioned to mark the 50th anniversary of his visit to accept an honorary degree and was unveiled by Ambassador Andrew Young, a close friend and colleague of Dr King's and who accompanied him to Newcastle in 1967.