Pre-Med for Study Abroad
This programme is for designed for students who are planning a career in medicine.
Overview
Learn through practice-based modules on Newcastle University's specialist Pre-Med Study Abroad programme.
Our Pre-Med Study Abroad Programme
This special Study Abroad programme is for designed for visiting students who are planning a career in medicine. It is offered as a single-semester programme, running in Fall or Spring and also as a full-year programme. Students will live and study alongside British undergraduate students of medicine and biomedical sciences.
Medicine has been taught at Newcastle University since 1834 and our Faculty of Medical Science is home to world-leading researchers, doctors and teaching professionals. Our work has led to major advances in patient healthcare regionally, nationally and internationally.
Programme Components
Participating students will take core modules (classes) that offer hands-on experience and the opportunity to develop practical skills. They will also benefit from a valuable clinical shadowing experience that takes place over a two-week period. This special opportunity provides unique exposure to the workings of British National Health Service (NHS) hospitals, allowing students to appreciate what is involved with patient care. Students are carefully matched with named clinicians, experts in varied medical fields. Shadowing over a two-week period will give students direct insight into the life of a working practitioner and a chance to appreciate the variety of roles and responsibilities involved.
Modules (classes)
Visiting students create a full-time course-load choosing two or three additional modules in addition to their core/required modules. Details of these core modules, as well as our vast range of elective modules, can be found on the Modules page.
Additional/elective modules are chosen based on student preferences and/or home university requirements. These might be offered within the Faculty of Medical Sciences or occasionally from a different academic department. Humanities and Social Science modules are also available, subject to timetabling.
All Study Abroad students benefit from an impressive range of services and support during their time at Newcastle University. For information on dates, costs, university housing, and the application process and more visit: www.ncl.ac.uk/studyabroad
Please contact the Study Abroad Team for further information.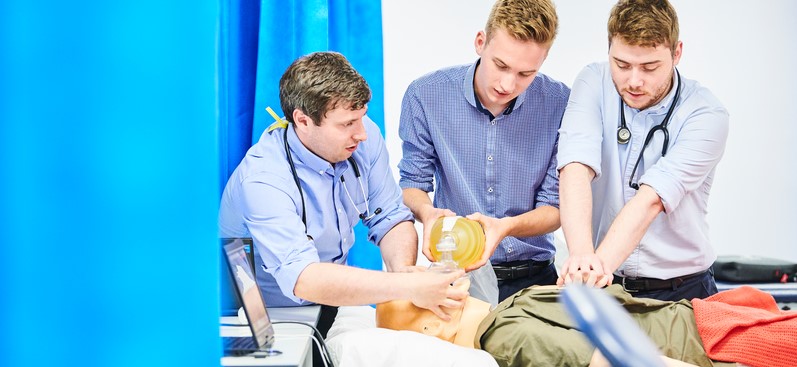 Modules
The three modules (classes) within the specialist Pre-Med programme give you access to genuine medical practices and knowledge.
In Semester 1 (Fall)
In Semester 2 (Spring)
In addition to these core modules, students bolster their timetables with additional modules to create a full course-load. Students can chose from a broad suite of options within the School of Biomedical Sciences or they may choose modules from one of the other faculties (depending on scheduling constraints). For instance, we offer a Physics module that includes a curriculum that is appropriate for students preparing for the North American Medical College Admissions Test (MCAT). Modules from the Faculty of Humanities and Social Science are also available to students.
Biomedical Science Study Abroad Modules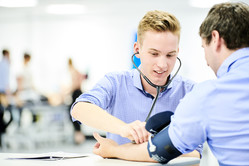 Biomedical Research Skills (CMB2000)
Biomedical Research Skills (CMB2000)
Semester 1, 20 credits
This module aims to give students a broad understanding of the principles underpinning techniques commonly used within biosciences as well as develop skills competence in molecular biology techniques.
The syllabus for this module can be considered under four interrelated strands:
Practical - Molecular biology techniques covered in practical laboratory classes and other online supporting material are; DNA (plasmid)isolation/purification, heat shock transformation of E.Coli, PCR, agarose gel electrophoresis, restriction enzyme digest, SDS-PAGE, Western Blotting / immunoprobing and ELISA.
Informatics - The complexity of molecular biology and vast amount of data generated means that students need a clear understanding of how technologies can be used to search for, interrogate and analyse information and data effectively. A range of informatics tools, resources and databases will be introduced.
Statistics - The analysis of data requires the application of statistics, including basic data analysis, probability (including Hardy-Weinberg equation), normal distribution, inference, t-Test, correlation and regression.
Ethics - Much of the scientific research introduces a number of ethical dilemmas and questions that students (as scientists) must be aware of and consider throughout their career. A series of lectures will examine the concepts of ethical reasoning and extend this to animal and human research and clinical trials.
Clinical Skills (CMB2009)
Clinical Skills (CMB2009)
Semester 2, 10 credits
Clinical Skills aims to provide an introduction to basic clinical skills. The module should provide a foundation in these areas for bioscience students who plan to study medicine.
The module consists of a number of practical procedures at the heart of medical training. The ability to perform physical examination of a patient and carry out procedures competently and safely is an essential requirement of clinical practice. The format of these sessions comprises a brief scene-setting introduction followed by a demonstration of the clinical skill by a tutor, practice on models, manikins and/or each other supervised by the tutor, ending with formative assessment.
The clinical sessions will include:
venepuncture using arm-trainers
venepuncture on each other
pulses and blood pressure measurement
basic cardio-pulmonary resuscitation and life support
ECG interpretation
chest examination (CVS)
All clinical skills procedures have the following components:
basic procedure
associated communication skill
anatomical and basic knowledge that underpins the skill
professional attitudes that allow you to use the clinical skill appropriately and competently
This module is assessed by an objective structured clinical examination (OSCE) and a written essay, each counting for 50% of the module mark.
Human Anatomy (CMB2007)
Human Anatomy (CMB2007)
Semester 2, 10 credits
This module aims to provide an introduction to human anatomy. It provides a foundation in these areas for bioscience students who plan to study medicine.
The human anatomy course consists of a programme of computer-based sessions that explore various anatomical topics and two gross anatomy practical classes in the dissecting room when you will have the opportunity to examine human material.
You will learn to understand and be able to use accepted anatomical language to describe normal structure, relationships and location of the major organs of the body. You will also study the anatomy of various body systems, including:
cardiovascular
respiratory
gastrointestinal
immune
reproductive
urinary
The module is assessed by two EMI tests, the first counting for 30% and the second 70% of the module mark.