Research excellence
Research is vital when we engage with organisations and policy-makers. It is at the very heart of everything we do.
Research Excellence Framework (REF)
Our research is world-leading. In the 2021 Research Excellence Framework (REF2021), 42% of the University's research was scored as world-leading (4*).
Newcastle University Business School's research is also growing. We've seen a 127% increase in our Research Power in REF2021 and 27% of the Business School's research was assessed as 4*(world-leading).
We have improved our performance across all areas:
29.50% (18.60% REF2014) of our outputs were assessed as world-leading (4*)

27.80% (27.10% REF2014) of our impact case studies were rated as having outstanding (4*) impacts in terms of their reach and significance

12.50% of our environment statement

 (0% REF2014) was judged conducive to producing research of world-leading quality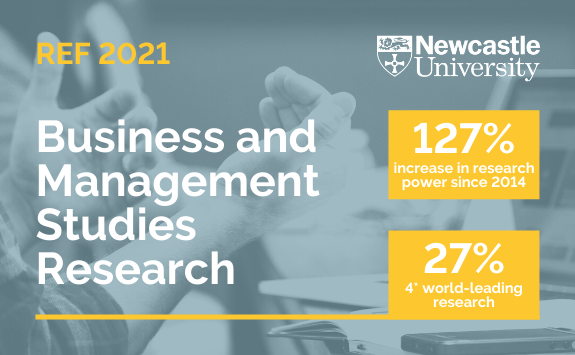 Impact case studies
As part of our REF2021 submission, we included nine impact case studies. They exemplify the reach and significance that our business and management research is having in the world. Below, you can find a selection of condensed versions of the submitted case studies.