What is Convocation?
Convocation is a formal name for the University's alumni community. A meeting of Convocation normally occurs once every calendar year and gives an opportunity for alumni to join discussions with the University leadership team about the latest developments at the University, and future plans.
Meeting of Convocation
Convocation 2023, will be held on Saturday 4 November from 11:00 - 13:00 (GMT) on campus and online, and will include the opportunity to hear reports from the University and the Chair of Convocation, as well as the chance to consider the reappointment of the University's Chancellor Imtiaz Dharker for a second term of office. The in-person meeting will be followed by a light buffet lunch.
Convocation 2024 will take place on 12-13 July 2024, with an exciting weekend of special events. More information will be shared nearer the time, but for now please save the date!
Meet our Chancellor: Imtiaz Dharker
Imtiaz Dharker is a poet, artist and video film-maker. She was awarded the Queen's Gold Medal for Poetry in 2014 and became Chancellor of Newcastle University in 2020. A Fellow of the Royal Society of Literature, she has been Poet in Residence at Cambridge University Library and has worked on several projects across art forms in Leeds, Newcastle and Hull, as well as the Archives of St Paul's Cathedral. Her six collections include Over the Moon and the latest, Luck Is the Hook, all published by Bloodaxe Books UK, and her poems have been broadcast widely on BBC Radio 3 and 4 as well as the BBC World Service. She has had eleven solo exhibitions of drawings around the world, and scripts and directs video films, many of them for non-government organisations working in the area of shelter, education and health for women and children in India.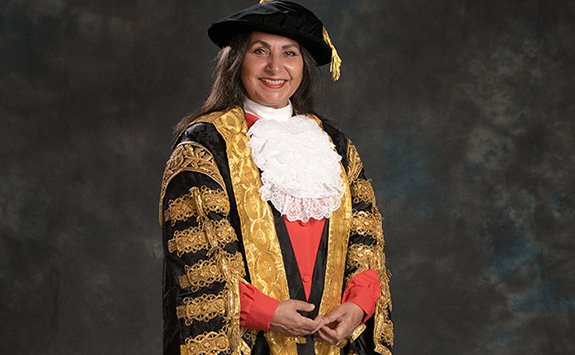 Who is part of Convocation?
If you meet one or more of the below criteria, you are entitled to be registered as a member of the convocation:
All alumni of the University;
Those alumni of the University of Durham who were during their courses registered students of the Newcastle Division of the University of Durham before the appointed day;
Those alumni of the University of Durham who were during their courses matriculated students at Sunderland Technical College
What do I need to do to join Convocation?
If you're part of our alumni community, you're automatically a member of Convocation – there's nothing extra you need to do!
If you want to be involved in the annual meeting of Convocation, then you just need to sign up when registrations open.
We'll send you an email inviting you to the meeting, and the registration link will also be available on our website and social media channels. To make sure you don't miss it, update your details with us so we know how best to reach you.
What happens at the annual meeting?
The annual meeting of Convocation is your opportunity to hear about the latest news from Newcastle University. The University's Executive Board will update you on the past year, sharing our successes as well as the current issues facing the University and future challenges we anticipate.
You'll be able to ask questions of our leadership team and connect, or reconnect, with members of our University community.
With the backing of other alumni, you can also raise matters with the University Senate, Council or Court, as appropriate, helping to shape our future.
What formal powers does Convocation have?
Under the statutes, Convocation can discuss and make representations on any matter relating to the University, this includes the appointment or reappointment of the Chancellor of the University.
Who decides the Chair and Deputy Chair of Convocation?
Any member of our alumni community can nominate themselves as Chair, or Deputy Chair, of Convocation, as long as they are not a salaried member of staff at the University.
We elect a Chair and Deputy Chair of Convocation every three years, with the next election taking place in October 2025.
All alumni have the opportunity to vote for the next Chair and Deputy Chair in an online election. You'll be notified when voting opens via email, so please make sure you have provided us with your up-to-date contact information.