International Welcome
Take part in International Welcome and become part of our university and city!

Missed International Welcome? Don't worry - you can access some of the resources from the Welcome Sessions!
We know that moving to a new country can feel overwhelming - join our International Welcome events to find out how to make the most of your time in Newcastle, start to feel settled, and meet other students. We can't wait to welcome you to Newcastle!
Airport Meet and Greet Service
The Airport 'Meet and Greet' service at Newcastle Airport is for new students arriving in Newcastle for the first time. We will arrange for a taxi or bus to your accommodation, or a drop-off location nearby, free of charge.
Please ensure that you are able to manage all of your luggage yourself as you may have a short walk to your accommodation from where you are dropped off.
Our 'Meet and Greet' service will be operating on Wednesday January 24th, 2024 between the hours of 8am and 8pm.
You will be greeted in the terminal by our friendly arrivals team holding welcome signs, who will arrange for a bus or taxi to your accommodation.
The booking form for January's Airport 'Meet and Greet' service will open in December 2023.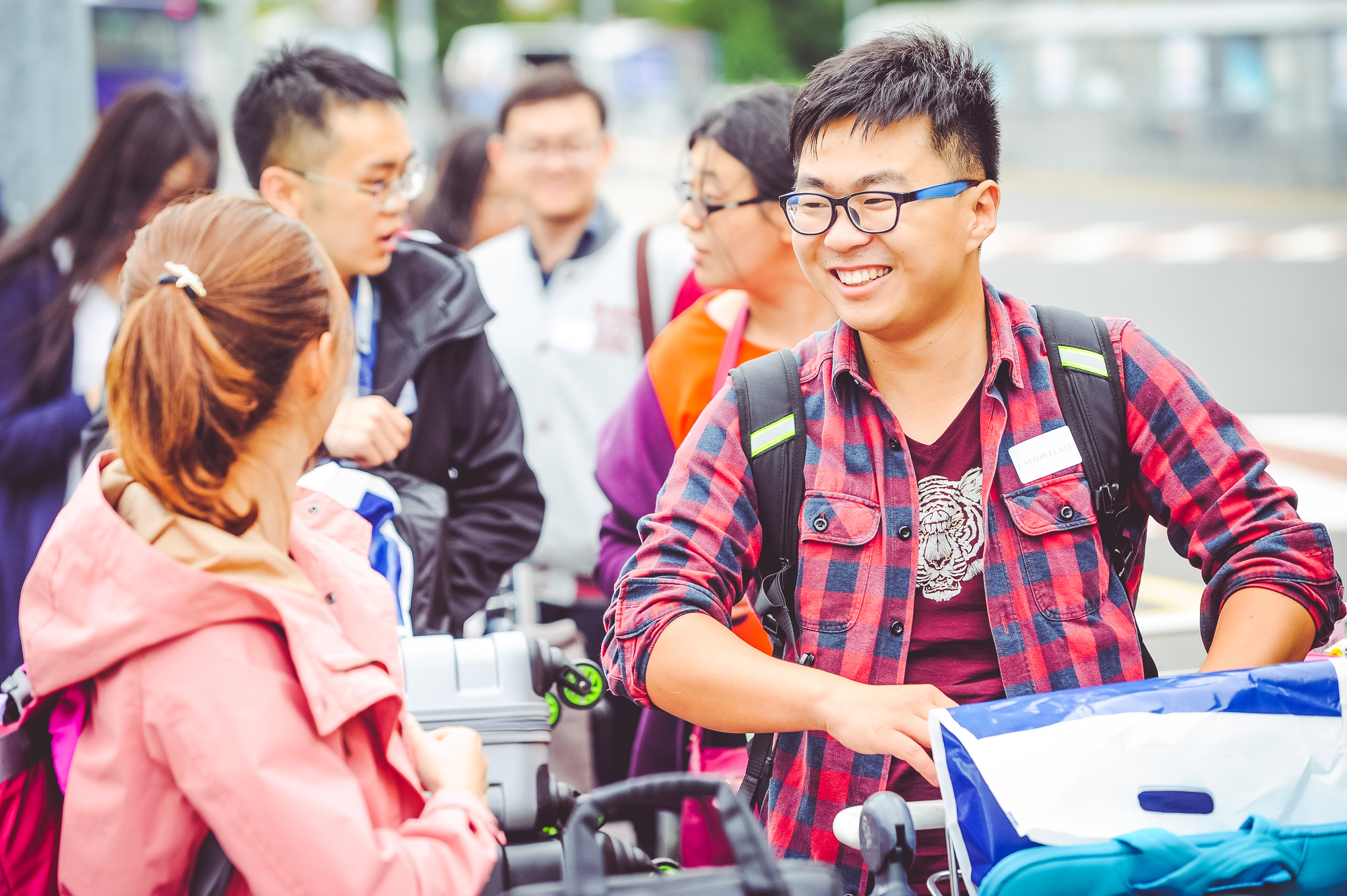 If you arrive outside of the above 'Meet and Greet' dates, or do not want assistance from the 'Meet and Greet' service, you will have to make your own way to your accommodation. More information is available here: Travelling to Newcastle and your Accommodation
Welcome Sessions
Our International Welcome programme of events will take place Friday 26th January in the Herschel Building on the Newcastle University main campus.
Information Sessions
Attend the Information Sessions to hear more about living in Newcastle and preparing for your experience and studies.
January's schedule of information sessions will be available in January 2024.
Information Fair
Chat with representatives from services across the university and city and get more information about:
Library Services
Sports Centre
Language Resource Centre
NUSU (Students' Union)
Nexus (local transportation)
Northumbria Police
HSBC (for general banking queries)
Refreshments will be provided - chat with other new students over a tea or coffee!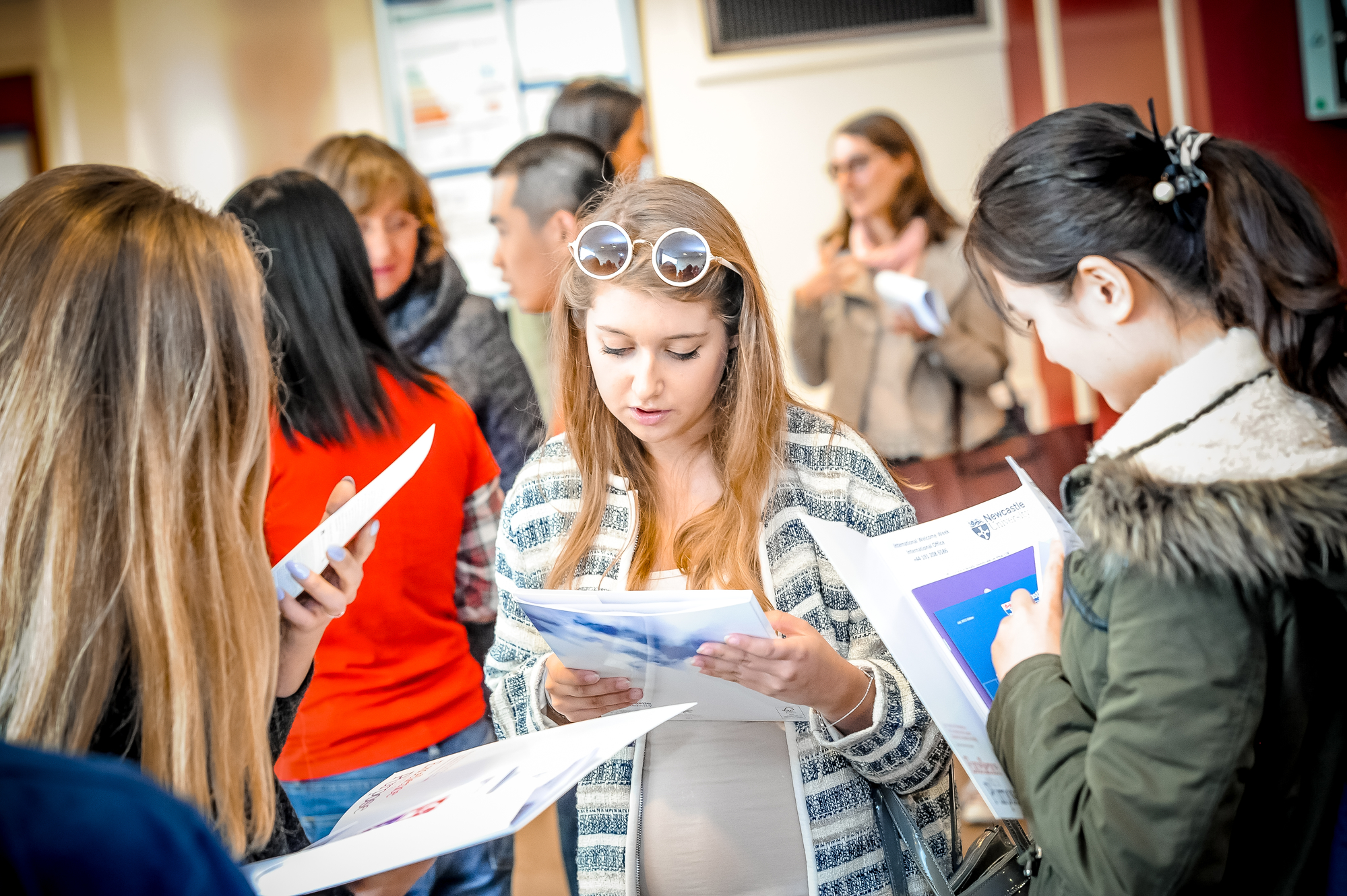 Social Events throughout International Welcome
Newcastle University Students' Union (NUSU) will also be running a range of social events and activities during January Welcome which provide great opportunities to get to know the campus and city, and to meet other students.
Give it a Go also offers activities throughout the year that you can join, from sports or society taster sessions to full-day trips! If you're living in Newcastle University-owned or managed accommodation, you can also check out events offered through ResLife, from pizza nights to arts and crafts sessions.
Umii App
Umii App
We want to make it as easy as possible for you to connect with like-minded students at Newcastle University, so we've partnered with Umii to allow you to do this in a fun, safe and non-awkward way. Umii is an app that matches you with other students based on your interests, course type and societies and makes it super easy to connect, start conversations and develop friendships together.
Accommodation
Accommodation
Before you arrive in Newcastle, please check when your accommodation contract starts. If you cannot move in to your room on the day you arrive, you should arrange alternative accommodation until you can move in to your regular accommodation.
If you are staying in University-owned or managed accommodation
During office hours, the reception team will greet you and will organise your key for you. Please follow the instructions given by our accommodation team regarding key collection, and double-check what day your accommodation contract starts.
If you are arriving on an evening or weekend, we recommend that you call security on +44 191 208 6817 from the airport/train station and let them know that you are on your way to your accommodation. They will meet you at your accommodation with your key and will let you into the building.
If you are unable to call security you can use the help point at the main door of your accommodation to call security. The security team member will then bring your key to the accommodation to enable you to get in. Please note that you may have to wait for security to arrive. Our security team will all be wearing University uniform and will have ID with them.
If you are staying in private accommodation
We recommend that you contact your accommodation provider before you travel to find out how to access your accommodation. We advise you to find out the arrangements for accessing your accommodation outside of normal working hours (like evenings and weekends) so you know what to do in the event that your arrival in Newcastle is delayed. If there is an out-of-hours contact number, make sure you have saved it in your phone or have it in any paperwork you have - just in case!
If you have any questions, please contact us. For information regarding University accommodation please read our information about moving in to your accommodation.
iNCLude App
iNCLude App
Newcastle University have a free app called iNCLude, which is the essential guide for new students. Get information and support that will help you prepare for life as a student at Newcastle University. With information and advice on transitions, preparing for University, student life at Newcastle, finances and Freshers' events – download iNCLude today! You'll find everything you need in one place. Download through iOS or Google Play.
Want to know more?
You will find additional pre-arrival and registration information for all students at Newcastle in Student Welcome.