Alumni Achievement Awards
Join us in celebrating members of your alumni community who are creating outstanding impact.
A community to be proud of
Newcastle's alumni are a talented group of people achieving great things. We can all take pride in our community, in which many of us are working towards positive change.
To honour those who are making an outstanding impact, we run the Alumni Achievement Awards each year. These form part of Newcastle University Students' Union's Celebrating Success Awards.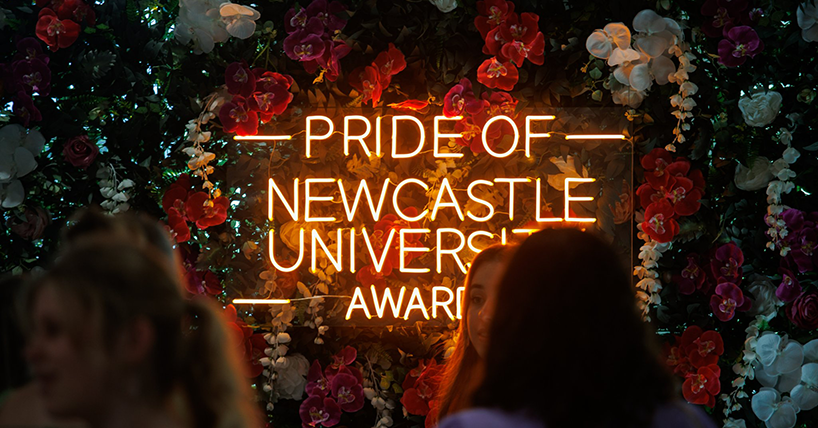 About the 2023 awards
To recognise the many different ways that alumni can make a positive impact, this year's Alumni Achievement Awards have been split into three categories:
Rising Star
Alumni Impact
Contribution to University Life
You can read more about these categories below.
Our Alumni Achievement Awards are now open for nomination. All submissions will be reviewed by our judging panel and eventual winners selected.
Alumni Achievement Award - Rising Star
This award recognises an alumni Rising Star, up to 10 years from graduation, who is making an outstanding and positive impact in their workplace, industry, or community.
Alumni Achievement Award - Alumni Impact
This awards recognises alumni who are more than 10 years graduated who meet any of the following criteria:
Alumni making an outstanding contribution to business/industry.
Alumni making an outstanding contribution to society/community life.
Potential to inspire the next generation of current and prospective students.
Alumni Achievement Award - Contribution to University Life
This award recognises an alumni from any year of graduation who is making an outstanding impact on students and the University community through their volunteering with Newcastle


Please note that for this year's awards we are asking all nominations to have a supporting statement from a fellow graduate.

Nominations close at midday (12noon BST) 6 April 2023
John Cooper QC, Winner of the Alumni Impact Award
John Cooper QC has represented the majority of the bereaved families in the Manchester Arena Inquiry. He is responsible for examining and exposing evidence to provide an explanation for the tragedy that occurred and recommendations to ensure the future safety of people attending large-scale public events.
Throughout his work, he displayed the utmost sensitivity support and understanding to the bereaved families, helping them through this traumatic and difficult process. In particular, he worked closely with Figen Murray in relation to her Martyn's Law Campaign, which champions the introduction of duties incumbent upon public venues when looking after people who attend them.
Abdulaziz Alsaeed, Joint Winner of the Rising Star Award
Following his graduation, Abdulaziz Alsaeed (PhD in Computer Science, 2015) co-founded the social learning platform Noon, a social learning platform that allows students to study with friends in groups, compete with one another and learn from top tutors in their live classes.
Launched in 2013 with just two tutors and less than 30 students, Noon has served more than 18 million students and has 1,500 certified tutors across Asia and Africa.
Bridget Stratford MBE, Joint Winner of the Rising Star Award
Bridget Stratford MBE (BSc Hons Psychology, 2017) has almost single-handedly brought North East Solidarity and Teaching (N.E.S.T) from a small student run club to an established charity that is recognised nationally for its work supporting the refugee and asylum-seeking community in Newcastle.
Under Bridget's leadership, N.E.S.T provides English language tuition and gives people seeking asylum a sense of community, assisting them with things critical to success in the UK. She has helped thousands of families who have arrived to the UK settle and become accepted.
During the pandemic, Bridget ensured families had necessary supplies and food, and even pulled together donated gifts for children. She has built partnerships with other organisations and universities to expand the model created at Newcastle, which is now being implemented across the country.
Sarah Grant, winner of Rising Star award
Sarah Grant (Business Administration and Management, 2011) is an inspiring entrepreneur and pioneer in healthcare recruitment. Through her start-up, My Healthcare Recruit, she has worked tirelessly to staff frontline work during the Covid-19 pandemic, deploying over 750 nurses who have been able to make a real difference to UK healthcare when it was most needed.
Dr Melesse Temesgen, winner of Alumni Impact award
Dr Melesse Temesgen (MSc Agricultural Engineering, 1987) has effectively applied the scientific theory he learnt at Newcastle University to invent new technologies that solved the problems of smallholder farmers in Ethiopia. He is the co-founder and CEO of Aybar Engineering PLC, which invents and manufactures new agricultural implements for sale.
Outstanding Alumni Support during the Covid-19 Pandemic
New for 2021, this category recognises alumni who have made a real difference in combatting the virus in the past year, from frontline workers and researchers to teachers and heads of business.
The 25 inspirational people shortlisted in this category have made a real difference not just in the UK, but across the world. The University agreed that it would be impossible to choose just one winner in this category, and instead all 25 were highly commended and celebrated on the night.