Alumni Achievement Awards
Join us in celebrating members of your alumni community who are creating outstanding impact.
A community to be proud of
Newcastle's alumni are a talented group of people achieving great things. We can all take pride in our community, in which many of us are working towards positive change.
To honour those who are making an outstanding impact, we run the Alumni Achievement Awards each year. These form part of Newcastle University Students' Union's Celebrating Success Awards.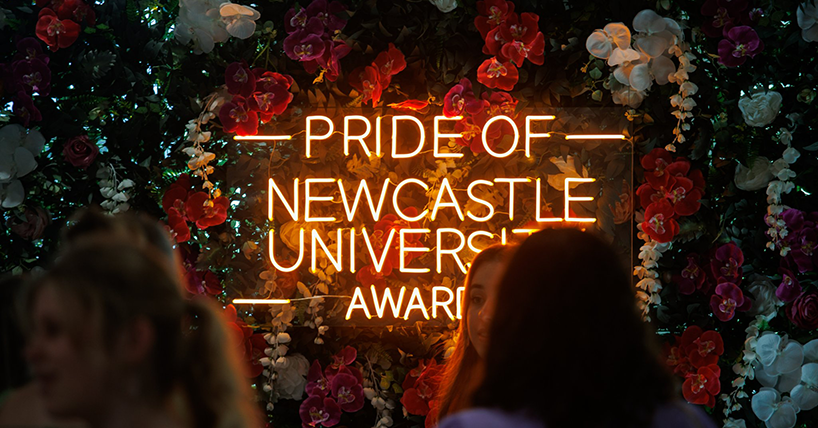 About the Alumni Achievement Awards
To recognise the many different ways that alumni can make a positive impact, this year's Alumni Achievement Awards have been split into three categories:
Rising Star
Alumni Impact
Contribution to University Life
You can read more about these categories below.
Rising Star
This award recognises an alumni Rising Star, up to 10 years from graduation, who is making an outstanding and positive impact in their workplace, industry, or community.
Alumni Impact
This awards recognises alumni who are more than 10 years graduated who meet any of the following criteria:
Alumni making an outstanding contribution to business/industry.
Alumni making an outstanding contribution to society/community life.
Potential to inspire the next generation of current and prospective students.
Contribution to University Life
This award recognises an alumni from any year of graduation who is making an outstanding impact on students and the University community through their volunteering with Newcastle


Rising Star Award winner: Andrew Jenkins (PhD, 2019)
Andrew's business Kinewell Energy, which was founded while he was studying at Newcastle, is developing and commercialising innovative technologies to accelerate the transition to net-zero.
Recognised by Business Live as one of the 'five most promising North East firms set for success in 2023', Kinewell Energy is now a market-leader in developing cost-optimisation solutions for Offshore Wind and bespoke solutions using advanced mathematical and artificial intelligence techniques, with their software to optimise inter-array cable layouts of offshore wind farms being rolled out across the globe.
Andrew and his team have many active collaborations with Newcastle, Northumbria, Sunderland and Durham Universities to inspire and create opportunities for future generations, supporting the development of highly skilled graduates as well as graduate retention in the North East. At Newcastle, they have supported several Business School MBA projects, co-developed the Geospatial CDT 'Challenge week', and provided nine paid student internship opportunities over the last four years through the Careers Service.
Alumni Impact Award winner: Dionissios (Dennis) Assanis (BSc Marine Engineering, 1980)
Dennis has dedicated his career to higher education and improving access to education for all.
Under his leadership as President, the University of Delaware (UD) has refined and innovated accessible programming options to support people formerly excluding from college education. This includes additional financial aid models, resources and scholarships. UD has also reformed a former Chrysler auto assembly plant into a 1 million square foot co-working space for 3,000 researchers, students and business owners in the field of science, technology and advanced research.
Dennis is a highly regarded expert in clean energy and power systems and has previously held teaching roles at the State University of New York, the University of Illinois and the University of Michigan. As well as inspiring the future generations of engineers, Dennis also has a hand in influencing national policy and innovation in his role on President Biden's Advisory Council on Science and Technology.
Contribution to University Life Award winner: Stuart Bailey (BA Hons History, 1985)
Stuart has been an instrumental supporter of Newcastle University students, and Newcastle University Business School students in particular, for many years.
Stuart is Head of Industry, Strategy and Design for Global Payments at Lloyds Banking Group in London, and it is through this position that he provides meaningful experiences to support the future generations of Newcastle graduates. This includes guest lectures and presentations, and mentoring MBA students.
Since 2019, Stuart has sat on the International Advisory Board (IAB) of Newcastle University Business School, offering his expertise to shape the strategic direction of the school. He has also arranged for Lloyds Banking Group to sponsor a business plan competition tied to the Gain a Global Advantage programme, which arranges talks, workshops and networking sessions for Newcastle students with employers.
John Cooper QC, Winner of the Alumni Impact Award
John Cooper QC has represented the majority of the bereaved families in the Manchester Arena Inquiry. He is responsible for examining and exposing evidence to provide an explanation for the tragedy that occurred and recommendations to ensure the future safety of people attending large-scale public events.
Throughout his work, he displayed the utmost sensitivity support and understanding to the bereaved families, helping them through this traumatic and difficult process. In particular, he worked closely with Figen Murray in relation to her Martyn's Law Campaign, which champions the introduction of duties incumbent upon public venues when looking after people who attend them.
Abdulaziz Alsaeed, Joint Winner of the Rising Star Award
Following his graduation, Abdulaziz Alsaeed (PhD in Computer Science, 2015) co-founded the social learning platform Noon, a social learning platform that allows students to study with friends in groups, compete with one another and learn from top tutors in their live classes.
Launched in 2013 with just two tutors and less than 30 students, Noon has served more than 18 million students and has 1,500 certified tutors across Asia and Africa.
Bridget Stratford MBE, Joint Winner of the Rising Star Award
Bridget Stratford MBE (BSc Hons Psychology, 2017) has almost single-handedly brought North East Solidarity and Teaching (N.E.S.T) from a small student run club to an established charity that is recognised nationally for its work supporting the refugee and asylum-seeking community in Newcastle.
Under Bridget's leadership, N.E.S.T provides English language tuition and gives people seeking asylum a sense of community, assisting them with things critical to success in the UK. She has helped thousands of families who have arrived to the UK settle and become accepted.
During the pandemic, Bridget ensured families had necessary supplies and food, and even pulled together donated gifts for children. She has built partnerships with other organisations and universities to expand the model created at Newcastle, which is now being implemented across the country.