Exchanges
Study with Newcastle University through your Institution's subject-specific agreement

Why Newcastle?
Why Newcastle?
With its remarkable blend of modern city and timeless countryside, traditional and contemporary architecture, rich history and heritage, vibrant entertainment and impressive transport connections, Newcastle is a great option for students looking for a world-class British education and a study abroad experience they will remember forever.
You'll enjoy getting to know our stunning campus and accessing all of the brilliant services we offer. In addition to world-class facilities to support your studies, there are lots of social areas to meet friends and unwind. With a strong sense of community, it won't be long before Newcastle feels like home.
We also offer Exchange students:
Discover more about Life in Newcastle
Our Partners
Our Partners
We invite students from all over the globe to join our community and study with us for a single semester or a full academic year.
You can study with us as part of the Erasmus+ or Non-EU Exchange Programmes if your home university has an exchange agreement with Newcastle University, in the subject which you wish to study. The length of study can be up to one year and is determined by your university's agreement.
To find out if your university has an exchange agreement with us, view our lists of Erasmus partners and partners outside Europe.
What Can I Study?
What Can I Study?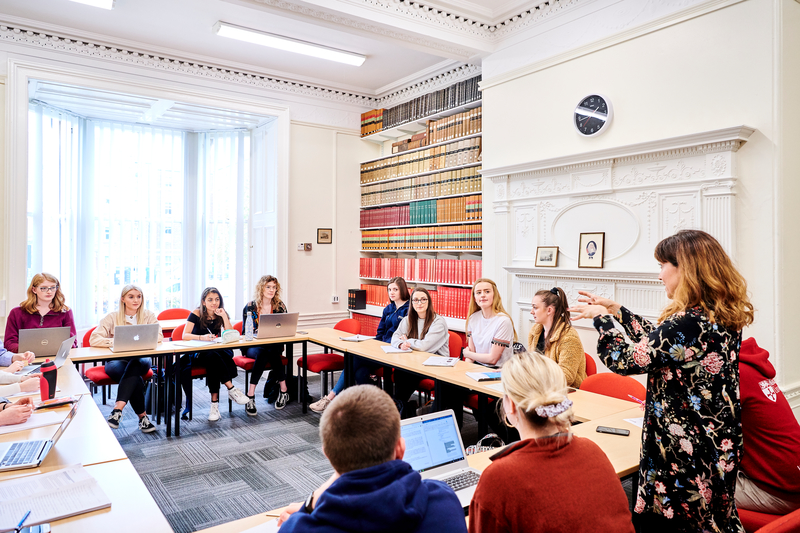 Exchange students choose modules from the subject area(s) listed in the exchange agreement between Newcastle University and their home institution. You should clarify any restrictions before you apply to make sure we can offer you the courses you need.
To make the module selection process easier, we have divided the modules into different 'pathways' to help you find what you are looking for. Typically, a student will take between 3 to 5 modules in one semester.
If you would prefer to browse the entire Module Catalogue, you are welcome to visit this page.
You will benefit from visiting the Module Guidance page before you start the selection process. This will ensure you choose modules of the right level and credit value.
Kindly note that not every module taught by Newcastle University is available to exchange students. We recommend you carefully check the availability of modules by using the links on this page. Information provided on other pages may not clarify what is and what is not available to exchange students.
Please contact us if you would like advice or information on selecting modules. We understand it can be a complicated process and we are happy to help you with any questions. You may also want to consult with your coordinator at your home university.
Read more about the Learning Experience at Newcastle.
How to Apply
How to Apply
Eligibility
To be eligible for the Exchange programme you must:
have studied for at least a year at your home university prior to enrolment at Newcastle
be currently enrolled at your home university with an exchange agreement between our two institutions
have IELTS level 6.5 or higher or CEFR B2 level (or equivalent certificate) if you are a non-native English speaker requiring a T4 visa.
Applications
Applications for the Exchange programme are made via our secure online application portal.
Your International Office or Erasmus Coordinator will nominate you to Newcastle University and will then give you access to the Application Portal together with the application guidelines.
Please prepare the following items as part of your application:
Certified copies of your academic transcripts (officially translated if not in English)
An IELTS test score, or equivalent certificate (non-native English speakers only)
Colour copy of your passport (valid for at least 6 months after the end of your programme at Newcastle)
Preferred list of modules you wish to take at Newcastle (module registration will take place on campus)
To apply for Fine Arts or Architecture you will also need to include a portfolio of your work.
To apply for Music you will also be asked to submit a recording of a musical performance.
Application process
Please apply by 30 April for entry into Semester One (September–January) and full year programmes
Please apply by 31 October for entry into Semester Two (January–June)
You will be sent an automated email to confirm receipt of your application. We aim to process applications within 4 weeks of receipt.
Once your application has been reviewed and accepted by the School, we will email you an offer of a place on the programme.  This will include further information you need before arriving for your Exchange programme at Newcastle, including applying for accommodation.
We strongly advise you not to make travel or accommodation plans until you have received confirmation of your offer at Newcastle University.
Future Term Dates for 2023/24:
Semester 1: 11 September – 15 December (exams possible for EU students until 19 Jan)
Semester 2: 22 January – 14 June