Start Your Registration
Start the registration process online, before you arrive at Newcastle.

How do I register as a student?
If you have accepted an offer from us we will send you registration instructions after your offer becomes unconditional. This is sent to new postgraduate students from 1st August onwards and to new undergraduates from 23rd August onwards to the personal email address included in your application.
If you have any queries regarding the registration process, please see our enquiries page in the first instance.
The process for registration is as follows:
2. Access the Student Self Service Portal (S3P)
2. Access the Student Self Service Portal (S3P)
The Student Self Service Portal (S3P) enables you to:
register onto your programme of study
keep your details up to date
pay fees
produce documents to confirm your student status
confirm module choices for the next academic year
Your S3P login details are the same User Name and password as your University IT account.
Once you have logged into S3P you will be asked to accept the University's Terms and Conditions which takes the form of the Student Declaration. You cannot proceed with your registration if you do not accept the Terms and Conditions. It is essential that you read these Terms and Conditions before agreeing to them.
View the step by step video guide below to learn how to complete your registration via S3P:
You can access the S3P Portal via the following link: https://s3p.ncl.ac.uk/login/welcome.aspx
3. Confirming your details
3. Confirming your details
Once you have accepted the Terms and Conditions, you will be directed to the 'Registration Status' screen. This screen lists the tasks you need to complete in order to register:
check the details in the 'Student Data 1' and 'Student Data 2' screens
check and confirm your programme details (make sure this matches your offer letter)
check your financial details
If your programme details are incorrect then do not continue with the registration; let us know as soon as you can so we can look into it.
If your programme is correct but there are other errors in the data then send us an enquiry via S3P and then complete your registration. We will fix any errors as soon as possible and they will not affect your registration with the University.
To learn more about what information we keep and why, please visit the Student Progress website - https://www.ncl.ac.uk/student-progress/registration/s3p/student-data/
4. Pay your Tuition Fees
4. Pay your Tuition Fees
You may need to pay your tuition fees before you can complete your registration. This is indicated in S3P on the Status screen by a red cross alongside the 'Financial Details' status.
You can pay your fees with a credit or debit card using the S3P 'Financial Details' screen. If you can't pay your fees using a debit or credit card please click here for alternative methods of payment. To ensure a smooth registration process, we recommend you arrange payment of your fees before arriving in Newcastle.
If you have any queries about your tuition fees please contact the Tuition Fees Team or use the 'Enquire' button on the Financial Details screen to send a message directly to our Finance staff.
5. Press the 'Register' button
5. Press the 'Register' button
Once you have completed all of the online registration tasks you should have green ticks against all of the items listed on the 'Registration Status' screen. You can now select the 'Register' button to provisionally register.
You can log in to S3P at any time to reprint any documents from the 'Documents' screen.
6. Download the University App
6. Download the University App
The University app hosts lots of useful information, including your timetable, a campus map, and University updates.
To enable us to produce a smartcard for you we need you to upload a photograph of yourself via the University app. The University app can be downloaded here -
Use your University IT credentials (sent to you in your registration e-mail) to log into the app. The first time you access the app you will be prompted to upload your photograph. Please ensure that you upload your photograph before you start your course or arrive in Newcastle, we recommend that you do this as soon as you can.
Please follow the instructions in the app to upload your photograph. Please ensure the photo is of good quality and a true likeness of yourself as it will be displayed on your smartcard which you may be required to show as identification to prove your student status. Your photograph should be a headshot similar in style to a passport photograph like the example image from the app shown below: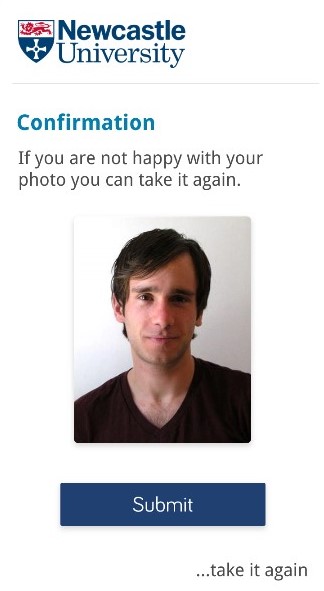 If you studied with us last year and already have a smartcard you do not need to upload a new photograph. We will use your existing photograph for your new card and this will be displayed on the digital smartcard you can access in the app.
Once you have uploaded your photograph the app will display a digital version of your University Smartcard. For students who are studying remotely or who are due to arrive on campus after the official start of their course you can use the digital card as your student identification. You only need a physical card if you are studying on the Newcastle campus.
If you require further support with how to install the app on your phone please visit this webpage. Alternatively, you can contact our IT Service Desk via email at it.servicedesk@ncl.ac.uk
Information on receiving your smartcard can be found here. Alternatively, for frequently asked questions about the digital smartcard, see here
Registration Help
If you experience problems during registration or have any registration related queries, you can contact:
Your academic school - you can send a message to your school using the 'Enquire' button on the S3P 'Programme Details' screen.
Student Progress Service - telephone +44 (0) 191 208 3423 or Email: student-registration@ncl.ac.uk
Or you can visit our enquiries webpage which holds all of our Registration FAQs.
Problems with S3P or University systems
If you find you experience issues with your University login, email IT.servicedesk@ncl.ac.uk or telephone +44 (0) 191 208 5999.