Stories of Educational Spaces (SES)
Tracking the past, present and potential future use of educational spaces
What is stories of educational spaces?
Stories of educational spaces is about tracking the archived and lived architectural and educational (hi)stories of a building for developing the future use and adaptive reuse of it.
In the tool activities, liked and/or interesting (learning) spots at the school in question are selected and their past, present and potential future use are tracked, described, discussed and developed.
The spots are visited physically and processed on a worksheet.
Assessment of the selected spots and their future potential happens through a wrap-up exhibition.
The tool can be used for local and self-driven development as well as for inputs into both smaller and larger renovation projects of existing buildings.
The tool also has an important educative value, raising awareness and developing competences of the pedagogical use of the physical environment.
The tool primarily involves teachers, but can also be used with pupils, school leaders, and architects and the workshops can be held with a mix of people across these different groups.
Stories of Educational Spaces worksheet in English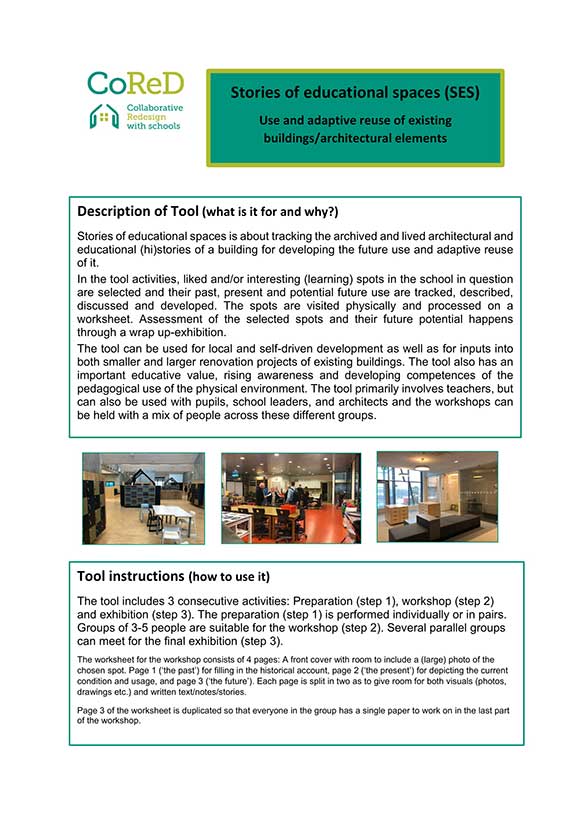 Læringsrummets historie(r) (SES)
Værktøjet 'læringsrummets historie(r)' har til hensigt at opspore de forgangne designvisioner og de levede arkitektoniske og uddannelsesmæssige historier om udvalgte steder i en given skole. Formålet er at bidrage til udviklingen af den fremtidige tilpassede brug af disse steder.
I værktøjets aktiviteter vælges vellidte og/eller interessante (lærings)steder på skolen, hvorefter stedernes oprindelige designvision og fortidige, nutidige og potentielle fremtidige brug opspores, beskrives, diskuteres og videreudvikles. Stederne besøges fysisk og behandles vha. et opgaveark. Vurdering af de valgte steder og deres fremtidige potentiale sker gennem en afsluttende udstilling.
Værktøjet kan bruges til mindre, selvdrevne udviklingsprocesser af det fysiske læringsmiljø og som optakt til både mindre og større renoveringsprojekter foretaget af eksterne partnere. Værktøjet har også en vigtig uddannelsesværdi, idet det kan bidrage til en øget opmærksomhed på og en kompetenceudvikling rettet mod den pædagogiske anvendelse af det fysiske miljø. Værktøjet involverer primært lærere, men kan også bruges sammen med elever, skoleledere og arkitekter. Workshops kan om ønsket afholdes med deltagere på tværs af disse forskellige grupper.
Stories of Educational Spaces instructions (in Danish)
Icelandic
Stories of Educational Spaces instructions (in Icelandic)
Feedback
All of the tools and accompanying resources that appear on this website are going to be trialled in schools between September 2020 and December 2021. They are therefore not the final versions.
We are keen to have feedback from any practitioners (not part of a project trialling school) who come across our tools and use them during this time frame. Please provide your feedback below.
You can also Tweet about what you did (and share photos) through #CollaborativeReDesignwithSchools