Alumni benefits
As our alumni you will have access to exclusive benefits and services, enabling personal and professional development.
Be part of our community
As a member of the Business School alumni community, you'll receive some additional benefits too.
We host events all across the world, so no matter where you've moved to after graduation, you can enjoy being a part of our alumni community.
Find out more about your alumni benefits below.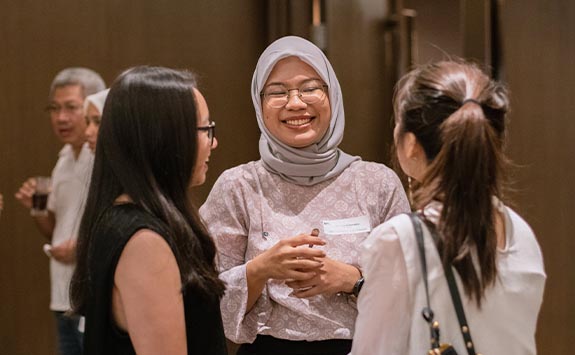 Global networks
Our alumni networks provide our graduate community with an opportunity to get together either physically or virtually to network, learn and develop. The networks are made up of a wide range of Business School alumni representatives.
Our alumni network spans the world over five continents and 137 countries.
Our global networks:
Don't see an alumni network in your area and want to get involved? You can still become an Alumni Representative or host an event in your country. Get in touch by emailing our dedicated Business School Alumni Team to discuss options.
You can also join our LinkedIn group made up of a variety of alumni in various sectors around the world.
Events around the world
The Business School, with our global alumni networks, offer a range of alumni events across the globe.
We list all of our Business School events on our events page.
Recent events for Business School alumni include:
Business Graduates Association
As our alumni, you have membership to The Business Graduates Association. You'll have access to:
CV-building services
jobs search
skill assessments
thought-leadership
partner discounts and more
Benefits include:
Career Development Centre
professional development webinars
social and learning events
member content hub
partner discounts
To access these benefits, you need to create an account by visiting the Business Graduates Association website.
Graduates' careers support
Support from your Careers team
All graduates receive free, award-winning careers support for three years after graduating. You'll receive support from dedicated careers consultants who provide support for your goals.
You can book a one-to-one careers conversation with our consultants to discuss:
how to land your dream job
planning your future career
CV's and applications
interviews and tests
assessment centres
LinkedIn profiles
Email our Employability Team to discuss your requirements.
Become your own boss
START UP support
All graduates who want to work for themselves can access support from the START UP team for three years after graduating.
START UP offers:
one-to-one coaching
workspace in King's Gate building
workshops and events
equity-free grant funding
a six-month business pre-accelerator
Book a confidential conversation with START UP to get clear direction on how to achieve your business or independent career goals.
To learn more and book an appointment, visit: www.ncl.ac.uk/careers/startup
Discover the opportunities today and read about the NUBS grad who utilised START UP.
Newcastle University alumni benefits
As a Newcastle University graduate, you can take advantage of many University-wide services and benefits to support your personal and professional growth.
We also offer discounts on tuition fees for Alumni who choose to study with us.
Find out more about: