Meet Alvin Lewis
Alvin Lewis is currently studying Coaching and Mentoring MSc at Newcastle University Business School and is the recipient of the Diversity in Coaching scholarship.
Alvin Lewis, a Research Officer, studies the Coaching and Mentoring MSc at Newcastle University Business School and has been awarded the Diversity in Coaching scholarship. In this interview, Alvin tells us more about his experience and shares advice with those interested in the programme.
Why did you want to study the Coaching and Mentoring MSc?
I think there's a strong market for coaching and mentoring. Coaching is such an important skill to enable us to get the best out of people, especially in organisations. I personally felt I had the skills and the assets to come onto the programme, develop them even further and be a vital asset for any organisation that I would go into in the future.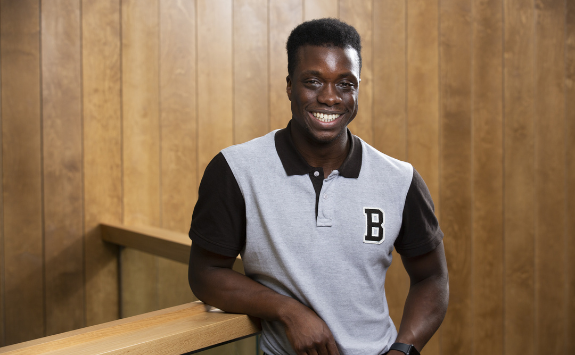 How has the scholarship enabled you to progress on the programme?
The scholarship has helped me in the sense of legitimising how good I am in terms of my potential and all the other elements I can bring to the programme. It's more than just a financial benefit. It's all about recognising the skills that I can bring. On that level, the scholarship has been a justification of being an asset to the field of coaching and mentoring.
How has your professional life benefitted from the Coaching and Mentoring MSc?
I'm able to look at situations and be more mindful of the other person, and from there, ask relevant questions which will help them develop even further. I've also developed some teamworking skills between myself and my colleagues. Coaching is a two-way thing, and it's all about the person working with you.
The programme overall has allowed me to grow as someone who understands the academic level of coaching, rather than just the technical aspects of coaching.
Not only am I gaining experience on the programme, but I'm also gaining an understanding of the field and the different variations and styles in coaching from different parts of the world.
My cohort also helps me in my development journey. We have professionals from different fields and ages coming together to blend ideas and develop each other. We push each other to progress and succeed.
What advice would you give to someone thinking of studying the programme?
My advice is to apply, especially since the information that you learn in a two-day coaching course is drastically limited compared to what you learn on this programme.
Through this programme, you'll be a more rounded person. Not only will you understand the importance of coaching and how to develop it on a bigger level, but you will also be able to use coaching in a variety of different fields. It's also more legitimate. You know that once you've graduated, you've got a Master's degree from a Russell Group university rather than just a course that you've just taken. It's all about the legitimacy, but also the breadth of knowledge that you'll gain from this programme.