Meet Lauren
Lauren, a HR professional, is currently studying the Coaching and Mentoring MSc. In this interview, we hear about Lauren's experience on the programme so far.
Lauren Bathan is studying the Coaching and Mentoring MSc programme. Lauren is a HR professional and works for Jackson Hogg, a leading specialist recruitment and outsourced people services partner focusing on STEM-driven industries.
In this interview, Lauren tells us more about her time on the programme and how she has benefitted from being the recipient of one of our Executive Education scholarships.
Why did you want to study the Coaching and Mentoring MSc programme?
In my career so far, I've been working in the human resources discipline. Over the past couple of years, I've been thinking a lot about how the work we do is underpinned by certain skills and behaviours. I've started to realise how important adopting a coaching approach or a coaching voice can be to the type of work that we do with individuals, organisational employees, or perhaps senior leaders. I thought that development as a coaching and mentoring practitioner would be good to take my career forward and develop a new skill that's very much in depth.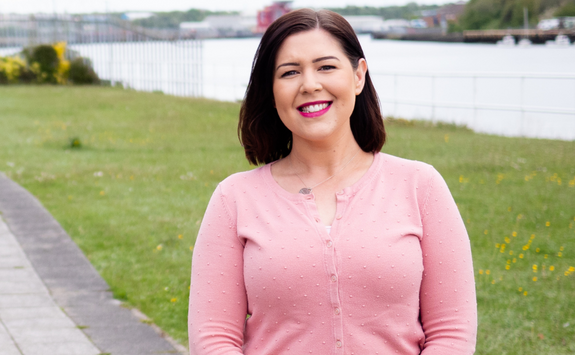 What do you love about your programme?
I think the approach the teaching staff take to the cohort of learners is fantastic. They're interested in us, what we think and our different perspectives. It's great to come in to the in-person sessions and be able to bounce off people who come at things with different ideas and different life experiences. You can see how the different perspectives generate different ideas. It's lovely to come in and be asked for my opinion and my perspective on things. It's refreshing.
H

ow has the scholarship support

ed

you with your career progress?
The scholarship has supported me financially. But more than that, I came here as an undergraduate in 2008, and it's really nice to come back all these years later doing something slightly different to what I did straight out of school. To be back at Newcastle, at such a prestigious university, and to have been awarded the chance to come on a scholarship has been fantastic.
What benefits are you seeing from the program

me

?
I think the programme has had a number of benefits for me. I can really feel myself developing a coaching voice and great empathy skills, which I think come out in loads of the stuff that I do personally and professionally. I can see the value that I'm adding just by having a coaching voice and a coaching attitude to the work that I do.
What advice would you give others thinking of studying the Coaching and Mentoring MSc?
It's important to think practically how you will work on a programme whilst you're working full-time or doing something else that takes up a lot of your free time.
My advice would be to consider what benefit you think having a qualification in coaching will bring to you as an individual and a professional, but also to the people you come into contact with within your community.