PhD in Computing
You can study for an Integrated PhD, MPhil, or PhD in computing with us.
Join us for a PhD in computing
We carry out world-leading research in computer science.
Read our research pages to find out about ongoing research by supervisors, research associates, and other students studying for a PhD in computer science. You'll find which groups and topics are most interesting for you.
In your application, you'll see a box labelled 'research project'. Here you should say which supervisor or research group you would like to work with.
Find out more about our world-leading research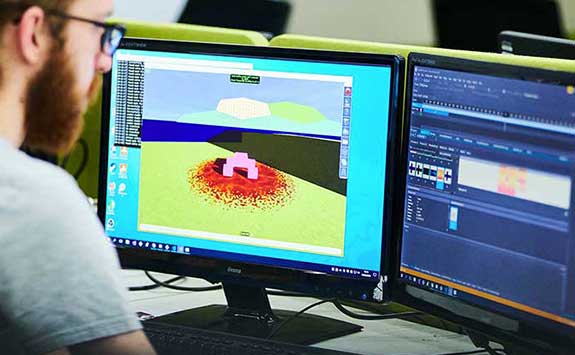 Our degrees
We offer:
We are happy to receive applications for a PhD in computing in any of our other research projects throughout the year.
PhD Studentships in the School of Computing
We currently have the following studentships available:
For the projects above please apply directly through the link provided. We suggest candidates to contact the supervisor(s) before making a formal application.
We have a further three studentships available as part of the Doctoral Training Partnership. These studentships are applicable to the following projects:
For projects 1 to 11 the application deadline has now passed. Shortlisted candidates will be interviewed via Zoom. The DTP studentships cover UK fees and stipend; one studentship may be available to overseas candidates.
Other schemes and PGR funding opportunities
We run a wide range of other funded schemes and programmes of Doctoral training that you can apply for.
Centres for Doctoral Training
We are one of very few UK universities with two EPSRC Centre for Doctoral Training in computer science. Together these two training centres will offer more than 100 PhD scholarships until 2019.
Cloud Computing for Big Data
Since 2014, the EPSRC Centre for Doctoral Training in Cloud Computing for Big Data has funded more than 50 PhD scholarships. It's equipped graduates with the expertise to be able to answer a global skills shortage.

Following on from this success, the future of the CDT will be funded by investment from Newcastle University and industry partners. It will continue to provide a bespoke training and research programme with strong cohort interactions and industry links to develop future leaders in data analytics.
Find out more about our cloud computing for big data doctoral training centre
Digital Civics
Since 2014, the EPSRC Centre for Doctoral Training in Digital Civics has funded more than 50 PhD scholarships based in Newcastle University's HCI research group Open Lab.
The Centre is a partnership between:
Newcastle University
local government (Northumberland, Gateshead and Newcastle councils)
local and national NGOs
international technology companies
many of the leading universities in North America, Asia, Europe, and Australasia
Find out more about our digital civics doctoral training centre