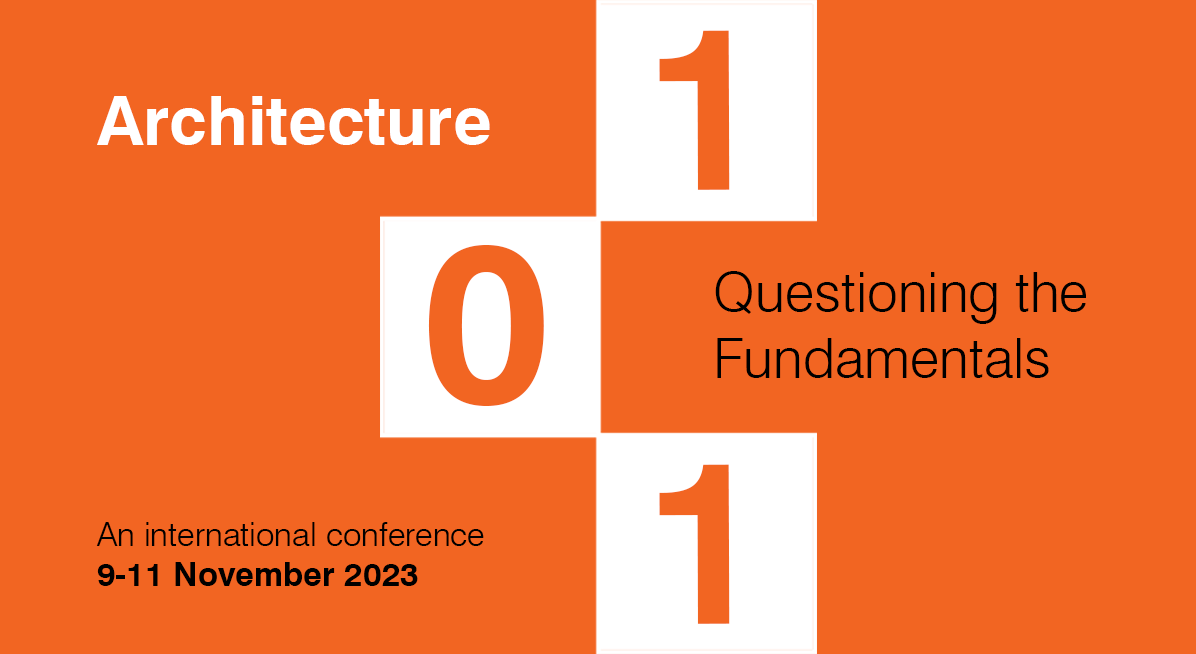 The number '101' refers to an introductory course, to the basics of a discipline. What are the fundamental questions of architecture? What were they 101 years ago, and what will they be in another 101 years?
We are celebrating 101 years of architecture at Newcastle University by holding an international conference to ask fundamental questions of our discipline.
Architecture continually renews itself through questioning. Many of today's questions are shaking the foundations of the discipline, affecting every architecture school, practice, and media outlet:
How? The Climate Emergency: the biggest challenge to humanity with architecture at the centre. How do we think the unthought, story the unstoried? Unbuild and rebuild?
Who? Equity: Who can become an architect? Who can practise architecture? Whose voices are heard and whose actions count? Who has the power to say what's in and what's out? Whom do architects serve? Whom do we include in our design work? Whom should architects work for? And maybe more importantly, whom shouldn't architects work for?
Why? Values: What matters in architecture? Why do we design how we do? What are the values that drive our actions? What role can architects play in society? Competition or collaboration? Award-winning, bread-winning, or just endlessly plate-spinning?
When? The Future: What will we build? What won't we build? What will new technologies, materials, processes, language and media enable in spatial design? Artificial intelligences or intelligent artifices? What kind of architecture might shape the world?
Where? The Gaps: Between education and practice, technologies and cultures, women and men, design and performance, East and West, North and South, rich and poor. Where should energies be directed?
Looking to the next 101 years, we invite workshops, papers, performances, and provocations that address such questions, or ask new ones. We envisage a lively celebration of architectural questioning, in-person and online, with opportunities to create collaboratively, to make visible the unfolding commentary, to seed action and explore together. In addition to the published booklet of abstracts, we will produce an issue of arq: Architectural Research Quarterly emerging from the conference, we are in conversation with Routledge about a conference book, and we welcome proposals for alternative forms of output that reach new audiences.
Newcastle University will shortly open The Farrell Centre – an exciting new public architecture centre and urban room – and the event will be held across the School of Architecture, Planning and Landscape and the Farrell Centre.
Conference Schedule
Please see below for the current conference schedule, any updates will be made to this version available here.
Keynote Speakers
We are delighted to be welcoming five keynote speakers to the conference, and will update further here as we receive confirmation.
Nzinga Mboup
Nzinga is a registered Senegalese architect who studied at the University of Pretoria and worked for two years in Johannesburg, before continuing with a Masters in Architecture at the University of Westminster in London. She then worked for three years at Adjaye Associates, predominantly on the IFC headquarters in Dakar. In 2019, she co-founded WOROFILA where she led various earth projects such as the Sendou home, the Ngor house and the Goethe-Institut in collaboration with Kéré Architecture. Nzinga has been a researcher for the African Futures Institute since 2022 and has co-authored two research projects: DAKARMORPHOSE and HABITER DAKAR, both of which centre Dakar's urban history and raising today's critical conditions.
Jaideep Chatterjee
Jaideep "Swiss army knife" Chatterjee An obsessive compulsive multi-disciplinarian, Jaideep is an architect, a historian and an anthropologist. With a doctorate in History of Architecture and Urbanism and another one in Socio-cultural Anthropology from Cornell University, Jaideep's academic enquiries traverse questions of design, visual culture, techno-politics, social formation of expertise, popular culture and nationalism. His research on architects, and design as a form of knowledge in post-colonial India has been published with prestigious academic presses worldwide. Jaideep has taught at several universities, including Cornell, The University of Cincinnati, and the University School of Architecture and Planning, Delhi. In addition to his academic pursuits, Jaideep also actively collaborates with designers, architects, artists and filmmakers to work on many interdisciplinary projects. In his free time trains his pack of street dogs along with his German shepherd Norbu. He is also a sci-fi nerd who loves to cook and deconstruct everything, from restaurant menus to milk cartons.
Kiel Moe
Kiel Moe, FAIA, FAAR, is a practicing architect, researcher, and author. In recognition of his design and research endeavors, he was awarded a Fulbright Distinguished Chair in Helsinki, the Gorham P. Stevens Rome Prize in Architecture at the American Academy in Rome, the Architecture League of New York Prize, and the American Institute of Architects National Young Architect Award. He has published several books on architecture including Empire, State & Building; Wood Urbanism: From the Molecular to the Territorial; Insulating Modernism: Isolated and Non-Isolated Thermodynamics in Architecture; and Convergence: An Architectural Agenda for Energy.
Andrew Ballantyne
Andrew qualified and practised as an architect before taking up research, starting with a PhD on Richard Payne Knight and the theory of the picturesque. He has worked with archaeologists surveying a Byzantine settlement in Greece, and more recently on architectural theory.
Andrew is author and editor of several books. Architecture: A Very Short Introduction (Oxford University Press, 2002) has been translated into 23 languages including Chinese, Greek and Hungarian. It is also available in an American edition with many more illustrations Brief Insights: Architecture (Sterling,2010). Key Buildings from Prehistory to the Present (Laurence King 2012) is avilable in English and Portuguese. Deleuze and Guattari for Architects (Routledge 2007) is available in English, Korean and Turkish, and will soon be available in French.
The Production Studies Group
The Production Studies Group are 4 researchers from the Translating Ferro / Transforming Knowledges project – a Brazil/UK collaboration using the work of Sérgio Ferro to establish the new field of Production Studies. We are all concerned with the invisibility of the construction site in architectural education. Tilo Amhoff is Senior Lecturer in Architectural Humanities at the University of Brighton. Lara Melotti is a PhD researcher at the University of São Paulo, Brazil. Katie Lloyd Thomas is Professor of Theory and History of Architecture and Will Thomson is a Research Associate, both at Newcastle University.
Conference Fees
The conference fee is as follows. In-person attendance includes all sessions, lunches, and refreshments. The conference dinner on Thursday 9 November is an optional extra.
| Fee Type | Cost |
| --- | --- |
| Early bird standard fee (closes 15 September) | £250 |
| Standard fee | £285 |
| Online only | £200 |
| Student concession, in-person or online (with proof of student status) | £140 |
| Newcastle University colleagues (presenting) | £140 |
| Conference dinner (including 3 courss, glass of sparkling wine and coffee) | £45 |
All fees will be spent only towards funding the conference.
Travel and Accommodation
Newcastle is well connected by rail and air.
Internationally, Newcastle can be reached by train. Eurostar trains from Paris, Amsterdam and Brussels arrive at London St. Pancras. Trains to Newcastle Central station run from London Kings Cross, directly adjacent to St Pancras (3 mins walk), every half hour during the day (taking between 2h 50 and 3h 10).
Newcastle International Airport is served at least daily by flights from international hubs including Dubai International, Amsterdam Schiphol, Paris Charles de Gaulle, Frankfurt International, and London Heathrow. Newcastle Airport is connected to the city by Metro (every 12 mins during the day, taking 25 mins, tickets available at the station), and also by taxi.
Travelling within the UK, Newcastle is on the East Coast Main Line rail route connecting Edinburgh and London (train operator: LNER). Frequent services also run from Manchester (train operator: TransPennine Express), Birmingham and Bristol (train operator: Cross Country). It is best to book train tickets online with the relevant train operator (the cheapest prices are for standard class advance tickets booked in good time beforehand, although these are non-refundable). There are also National Express and Megabus coaches from various UK cities.
Newcastle has a wide range of good short-stay accommodation. The following hotels are regularly recommended by our university, all of which are within a 20-minute walk of the campus:
Motel One: 15-25 High Bridge, Newcastle upon Tyne, NE1 1EW.
https://www.motel-one.com/en/hotels/newcastle/
(For the avoidance of confusion, the word 'motel' is used here in a European not an American sense and this is a smart city centre hotel!).
We have secured the below discounted rates with Motel One for conference attendees, simply quote the code: NCLAPL when reserving your accommodation either via phone +44/191/2111 091 or emailing the hotel at: newcastle@motel-one.com
Rate options as below:
Option 1: £59 per night/room – 'The One' - Standard Double Room – Accommodation Only
Option 2: £71.50 per night/room – 'The One' - Standard Double Room – Bed & Breakfast
For other hotel/accommodation options, please see below some recommendations, all of which are within a 20–25-minute walk of the University campus:
Maldron Newcastle: 17 Newgate St, Newcastle upon Tyne, NE1 5RE.
https://www.maldronhotelnewcastle.com/
Innside by Meliã: Bridge Court, Close, Newcastle upon Tyne, NE1 3BE.
https://www.melia.com/en/hotels/united-kingdom/newcastle/innside-newcastle
Holiday Inn Newcastle-Jesmond: Jesmond Rd, Jesmond, Newcastle upon Tyne, NE2 1PR.
https://www.ihg.com/holidayinn/hotels/gb/en/newcastle-upon-tyne/ncljm/hoteldetail
Call for Participation
To foster discussion, dialogue and collaboration, we welcome standard and non-standard conference contributions which can seed meaningful interactions between participants. The conference will be held primarily in-person while we also offer opportunities for online participation. In addition to paper sessions, we invite proposals for a variety of interactive formats.
Submission Options
Peer-reviewed paper
We welcome abstracts for paper submissions, which could be part of a:
A) Paper session – where 20 minute paper presentations are followed by discussion, or;
B) Reading group – where you join others, round-table, to discuss your work and ideas alongside 2-3 other papers (in this format, participants will have had the opportunity to read the paper texts prior to the discussion, and very short, informal, introductory presentations only will be required).
Submission – an abstract for your peer-reviewed paper (up to 350 words)
Thematic symposium
We welcome proposals from a group of contributors for a paper session to include a series of contributions on a specific theme from a range of participants. We strongly encourage groups proposing thematic symposia to consider the diversity of their panel.
Submission –a) Title and outline of the symposium content including the theme and its significance and a list of speakers with paper titles (up to 350 words) 
And  b) individual abstracts for included peer-reviewed papers (up to 350 words)
101 Workshop
Whether long and thin, short and sharp, confined to the conference venue or out-and-about, a workshop contribution can take whatever interactive format suits your intent. Perhaps a show-and-tell, a polemical piece, a provocation and action, collaborative generative activity. Make a proposal for when (in parallel or in-between?), where and how your event could take place.
Submission – an outline of the proposed content, format, length of time and required space and resources (up to 350 words).
Creative Practice
A creative practice-based design, performance, commentary or exploratory process. Any medium or format can be proposed.
Submission – an outline of the proposed work/event/process including any equipment/materials needed, proposed duration etc.  Please include any particular spatial requirements – e.g. studio, walls, furniture, outside space (up to 350 words).
All submissions should be completed using the online form by Monday 22 May 2023.
Please contact conference organisers at: architecture.101@newcastle.ac.uk if you encounter any issues with accessing or completing the submission form.