Gretel Ferat-Dixon
2014 MBA graduate
"Don't be afraid of failure, learn from it. I co-founded a tech start-up in the UK which was one of the most challenging and rewarding experiences of my life. I eventually decided it wasn't for me but from this I grew a network of contacts and gained an in-depth understanding of the start-up scene, leading me to my current position."
Career history pre-MBA
Tell us what you were doing when you started the MBA:
I had been working for eight years in various roles related to Public Relations and Corporate Social Responsibility back in my native Mexico.
When I applied for the MBA I was combining being a freelance Designer & PR consultant, with a full time job split between auditing and managing a team of auditors for in supply chain social compliance in Canada, USA and Mexico, for big multinational corporations.
Why did you choose to study your MBA?
Before doing the MBA, I completed a BA in Business Communication and an MA in Social Responsibility, so I was always more worried about creating social impact than generating profit. Additionally, Mexico is a funny place when it comes to careers progression as a lot of roles have managerial-level responsibilities, but don't come with a manager's title or pay level, especially since most businesses are family-owned, so it's very difficult to progress in any form. Pursuing an MBA was a strategic move to give myself the best chance at the career I wanted, as I realised that I needed to re-balance my priorities and start speaking business if I ever wanted to broaden my horizons.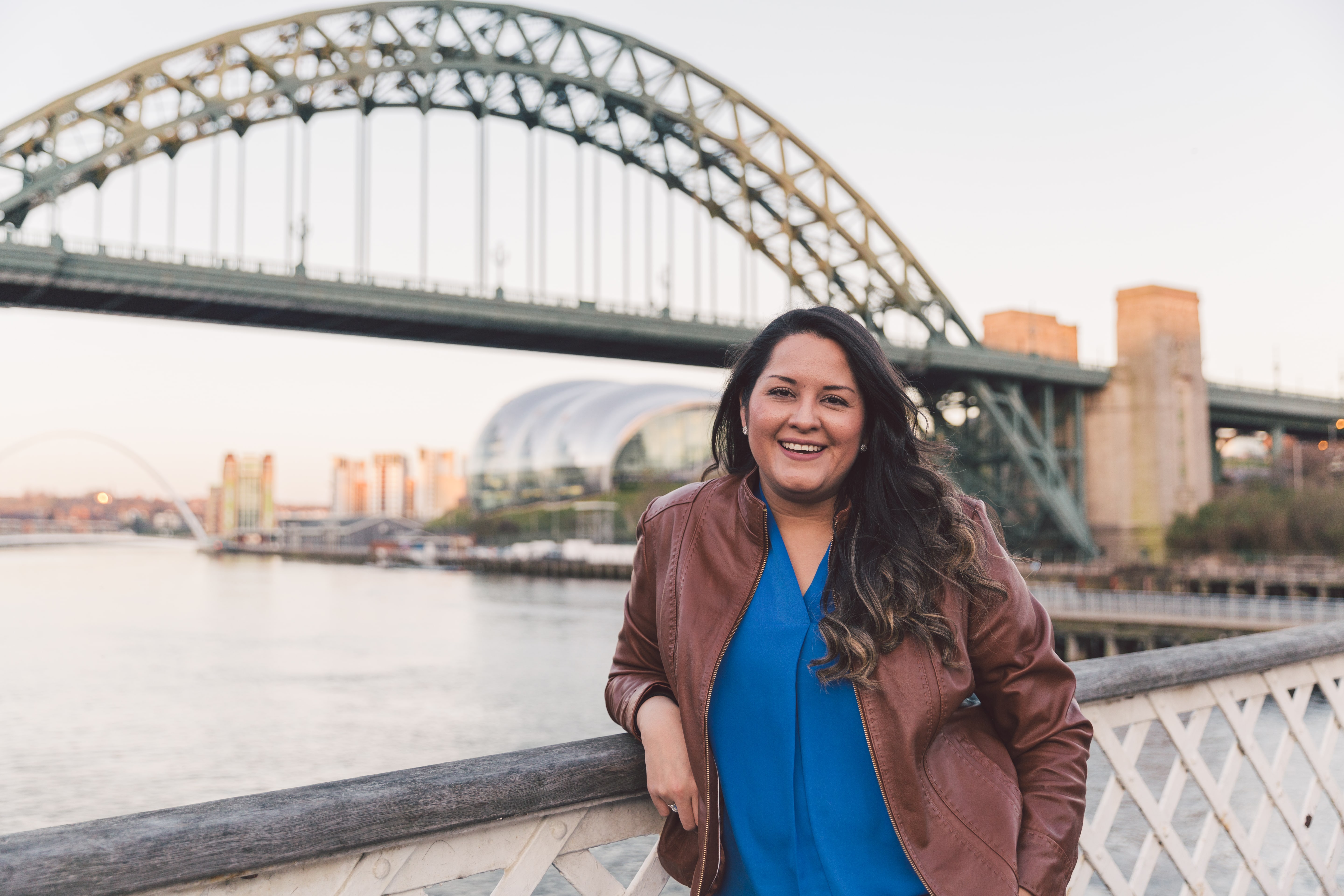 Career history post-MBA
What has your career been like post-MBA?
During the MBA I was introduced to a group of locals that went on to become my business partners. Together, we developed an idea for an IT support-as-a-service business whilst I was writing my dissertation. Shortly before my MBA graduation I was lucky enough to get endorsed by the University for a Tier 1 Graduate Entrepreneur visa, which allowed me to stay in the UK for an extra year with the sole purpose of pursuing my business idea. Sadly, our individual visions were very different and I decided to leave the business behind.
Please describe what your current role entails:
I'm currently a Start-up Adviser at Newcastle University, where I provide support to students and graduates who want to start their own business. This mainly takes the form of one to one coaching and small group teaching, as well as organising large entrepreneurial events. I also have a side gig as a wedding stationery designer through my company Lovely Do, but I'm keeping that small at the moment as I see it more as a life-style business.
How do you feel the MBA contributed to your career?
The MBA opened my eyes to a myriad of frameworks and theories that I didn't know before and in the process helped me mature my understanding of the world of business and informed my managerial practice. The impressive diversity of my cohort helped me develop soft skills that were difficult to cultivate back in Mexico, such as intercultural awareness, preparing me for a truly global career. It has also made me more aware of how seeking profit is not a bad thing at all, even in the context of social responsibility, thereby completely changing my perceptions.
What are you most proud of in your career?
I think co-founding a tech start-up in the UK has been the biggest challenge and rewarding experience of my life, even though I eventually decided it wasn't right for me. Most people would count that as a failure, but I learned a lot from it. I grew a big network of contacts thanks to it and I now have an in-depth understanding of the start-up scene in the region, which eventually lead me to where I am today. All its ups and downs also made me grow as a person and it's learning that I want to pass on to others looking to start-up on their own.
Whats's next?
I'm happy where I am at the moment, but I always enjoyed auditing social compliance in the fashion industry and I do miss the world of corporate social responsibility. In the next couple of years I would like to make a return to it as an ethical supply chain manager or consultant in the fashion industry.
Always listen to what your peers have to say. An MBA works like a learning community and you learn as much from each other as you learn from your lecturers and your self-directed study.
Your degree
Why did you choose to study at Newcastle University and what did you most like about the city?
I always wanted to come to the UK to study as it has such a good reputation for higher education. I also knew that I wanted to be in the North as I had always heard how friendly people were and how the quality of life was superb. When I did my MBA the tuition fees were a lot lower as well, and that played a massive role in my decision since it was affordable enough that I didn't have to look for scholarships or get a loan to pay for my studies, which gave me a lot of freedom after I graduated.
The thing I liked the most about Newcastle (and still love!) is its location, as you can have a country, beach and city life at the same time, which is such a great environment to be in and gives you lots of activities you can do, all within a few miles.
What did you think of your MBA experience?
I loved the fact that there was only one MBA group and that we were such a diverse bunch. I got to know and work with people from 15 different nationalities and that taught me about understanding, collaborating, negotiating (and sometimes even arguing) with people from different cultures, which all provided a great experience.
What do you think makes the Newcastle MBA special?
There was a lot of reflection embedded throughout the MBA and I think that's something essential that really made this program stand out from others. Any business person can learn hard skills, and develop soft skills to a certain extent, but real leaders will also reflect on what they are doing all the time and try to improve continuously and we got to do that a lot at Newcastle.
In my year we did a lot of Design Thinking work with Professor Tyrone Pitsis, which was also unexpected from an MBA program and made it unique as developing that skillset has been incredible useful through my career.
What lecturers/tutors/staff do you remember well from your time at Newcastle?
I was always amazed by Prof. Alastair Nicholson who taught me Operations and Supply Chain Management. He has such a wealth of knowledge and experience, and makes the sessions so interactive and interesting that I would always leave the classroom wanting more, even when we had spent half a day on his lecture.
Juli Campey was another highlight for me. She was my MBA Director and also taught me Management Consultancy. She was always the most helpful, lovely teacher and I thoroughly enjoyed working with a local business on the consultancy project for that module assessment. She is still a friend and even attended my wedding a couple of years ago, that's how fondly I remember her!
Last but never least, Professor Steve Hughes, lecturer in Global Political and Economic Environment, of whom everybody was terrified to begin with, largely because the previous cohort have told us that he was super strict. And so he was indeed, but he was also the best at providing feedback and his class set the tone and prepared us for the hard-work standard of the rest of the MBA.
Giving back
What advice would you give to someone considering doing an MBA?
Always listen to what your peers have to say. An MBA works like a learning community and you learn as much from each other as you learn from your lecturers and your self-directed study. Your classmates will also be highly experienced individuals that can teach you a lot about their own industries, share their success and failure stories with you and connect you with their own network. You'll find it hard to have such a wealth of learning to draw from when you're done with your MBA, so make sure to learn as much as you can and enjoy it whilst it lasts!
Since graduating, have you kept in touch with classmates?
I have! I stayed in Newcastle and the only other two people left in the UK are in Yorkshire, so I don't see them often, but we all keep in touch through social media and I still maintain a WhatsApp group with the 10 people I used to hang out with all the time.
For what reasons do you think it is important for alumni to be involved with the Business School?
I think the MBA was one of the best times of my life and has given me more than I expected, both at a professional and personal level, so I hope that by contributing to the Alumni Network I can help more students make the most out of their time in Newcastle and get the same kind of positive, enriching experience that I had.