Computing Alumni Profile: Oana-Madalina
BSc Computer Science with Industrial Placement. Graduated: 2019.
Choosing Computer Science at Newcastle
Studying Computer Science is perhaps the wisest investment one can make in their education.
Due to the rapid advancements in technology, this field is extremely employable. It prepares graduates for a wide variety of roles such as software developer/engineer, IT consultant, security analyst and many more.
The knowledge and skills students gain from this course will help them contribute to and develop technical solutions that make a difference in the world, regardless of the jobs they choose to go in.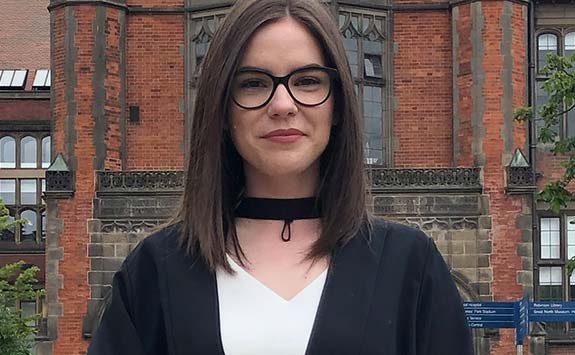 Living in Newcastle
I enjoyed how friendly and open everyone was, both students and locals. Newcastle offers many opportunities to socialise and meet new people. There are great restaurants and coffee shops, comedy clubs and theatre shows.
The city is compact so you can walk around without getting lost. It is also vibrant and full of life – there's always something happening in Newcastle. The campus is in the middle of the city centre, which is very convenient as you can grab a bite or even go shopping in-between lectures.
Living and socialising in Newcastle is affordable. This makes it a great city for students. If the budget allows, there are trains to cities including Durham and Edinburgh, which are amazing for one-day visits with friends.