Bloomberg Guide
Bringing the real world of finance into the classroom. Preparing our students for the global job market.
Introducing Bloomberg
Welcome to Newcastle University Business School's Bloomberg Financial Lab. You're on your way to completing the Bloomberg Market Concepts certificate (BMC).
Just getting started? Watch below as Dr Ekaete Efretuei gives you some background on our Bloomberg Financial Markets Lab.
Sorry, you need JavaScript to view this video
The Bloomberg Terminal
A typical Bloomberg Professional Terminal will have two monitors and a unique keyboard.

Dual monitors:
Allow Bloomberg users to view multiple displays simultaneously. You'll be able to multi-task, viewing and comparing up to four different sets of data simultaneously.
Unique keyboard:
This makes the menu-driven navigation in Bloomberg Professional easier.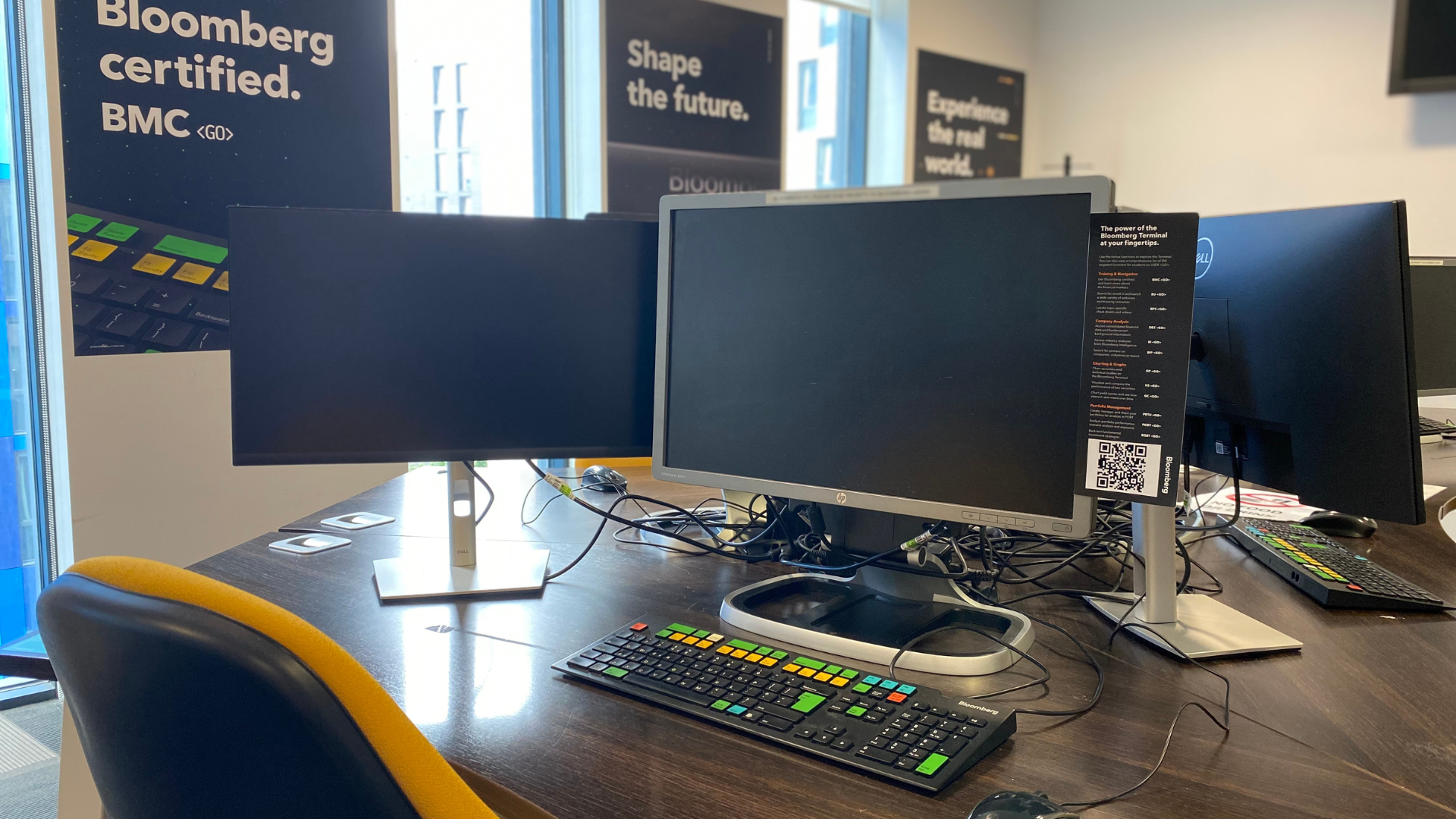 Bloomberg Keyboard
Not your average keyboard, the Bloomberg keyboard is colour-coded to provide users with quick access to data and functions.
Yellow keys – Market sector keys
Green keys – Action keys
Red keys – Cancel and log off keys
For assistance with the Bloomberg keyboard, download the Getting Started Guide or complete the Bloomberg Essentials Training.

Browsing menus
Bloomberg functions are organised by menus that are classified by market sector or product type. Each menu is part of a hierarchy.
Access menus using the Menu button on the screen, the Menu key, or using a Yellow Market Sector key. (This method is recommended for new users).
Using function codes
An alternative to using the menus is to search by function code. Entering codes directly into the command bar can eliminate steps.
The Getting Started Guide [hyperlink] offers lists of frequently used codes.
There are two types of function codes:
1. Security Specific, for analysing loaded securities
2. Non-Security Specific, for locating information on a sector or news and events.
To load a security, enter the ticker or identifier, hit the Market Sector key representing the asset type, and then click on the Enter/GO key.
Launchpad
Launchpad is a powerful feature giving users the ability to combine and consolidate the Bloomberg content that you use most.
With this tool you can monitor data, group components, customise function panels, and share ideas with other Bloomberg users.