Student-run business blooms in France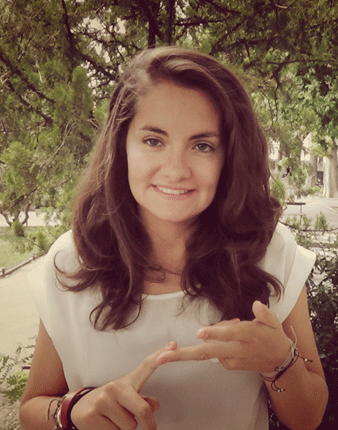 While studying International Business and French offers a variety of employment options, launching her start-up abroad is opening an exciting career path for one Newcastle University student.
Katy Jones, 21, started My Anglophone Sister - an English language learning and childcare service in Montpellier - to extend her stay in France following her year abroad which ended in May. Just a few months later, her modest start-up had grown to a team of seven.
The fourth-year undergraduate (pictured) said: "I originally set up the My Anglophone Sister brand to sell my skills, but now I receive new clients every day and job applications from girls wanting to become an Anglophone Sister."

Within three weeks of launching, the self-starter found herself working as a babysitter, English tutor, and swimming instructor for English children. She was also working part time in a language school.

The enterprising student didn't want to shut down the venture and leave her clients when it was time to go back to the UK to finish her degree, so she hired a replacement. Following the initial hire, she recruited six more 'Anglophone sisters' as the word from happy customers spread quickly.

Discussing the referrals fuelling her success, Katy said: "Having a 'sister' rather than a teacher makes the child relaxed and comfortable with the idea of learning a new language. Since the classes are carried out in their own home, they are used to the surroundings so feel even more comfortable. Our prices are extremely competitive - anyone can afford them, yet we still keep our value."

To sustain the growth, the young entrepreneur has turned to the Rise Up team at the University Careers Service for financing and legal guidance. Rise Up, which provides support to student and graduate entrepreneurs, helped 33 business start-ups last year.

In addition, Katy entered the fifth annual Varsity Pitch Competition, organised by the National Association of College and University Entrepreneurs. The contest will see five successful entrants from seven industry categories pitch their business ideas to a panel of expert judges. Each finalist will have two minutes to pitch their concept for a shot at the £10,000 cash prize to help further their business.

Reflecting on her decision to enter the awards, the emerging entrepreneur said: "I entered because I want to share my idea, meet like-minded people and hear feedback or criticism; anything that will help my business grow."
After a successful first round, Katy advanced to the national semi-finals, taking place at the Google Campus in London.
If she wins the big prize, the budding entrepreneur plans to use the cash for financing and marketing as well as renting office space in Montpellier for recruitment, training and development. Long-term goals include rolling out accredited qualifications and taking the business to new locations within France and other countries.
published on: 20 October 2014