Charlie Crowe Scanner officially opened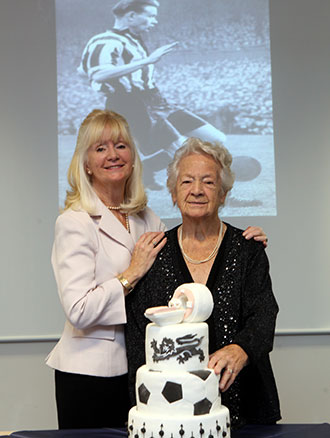 A brand new scanner, purchased thanks to ex-Newcastle United star Charlie Crowe, has been unveiled at Newcastle University's Campus for Ageing and Vitality.
The cutting edge kit will boost research into a number of diseases, including Alzheimer's, diabetes, cardio-vascular related diseases and boost neuroscience research.
In order to raise the £1.5 million for the powerful magnetic scanner, the Charlie Crowe Scanner Appeal was launched in 2009. Charlie, hero of the 1950s triple FA cup winning Newcastle United team, proved to be a very popular figurehead for the fundraising: very large numbers of people undertook all manner of fundraising activity, and some of Charlie's books were republished. The appeal drew support from figures from the world of football, too, including Alan Pardew and Sir Bobby Charlton.
Charlie was suffering from Alzheimer's disease when the fundraising was launched, and this is one of the major topics under research at the Newcastle MR Centre, and with which the scanner will help. Sadly, Charlie died during the fundraising, however, his daughter Leslie and his wife Ruth continued to lend their support.
The fundraising is now complete, and with substantial additional funding from the University the new scanner is in place and ready to be used for research. The Charlie Crowe Scanner Suite was officially opened by Leslie and Ruth, and the Hairy Bikers, Si King and Dave Myers, carried out the inaugural scan – using the opportunity to capture an image of an artichoke in close-up detail.
Diabetes expert Professor Roy Taylor, Director of the Newcastle Magnetic Resonance Centre, said: "This piece of equipment will allow us to power ahead with our research into all kinds of conditions and diseases, including dementia, diabetes, heart disease and liver disease. It is a very powerful scanner which uses the most up to date technology to provide a detailed picture into the structure and function of tissue in very precise detail. This will translate into real benefit for patients."
Hairy Biker Si King said: "What's so exciting about this scanner is the difference it will make to the globally important work that Professor Taylor and his team do here. I'm enormously proud that this facility is in the North East and that it's been made possible by the generosity and support of so many people in the region. We're very honoured and privileged to be part of the event here today."
The Newcastle Magnetic Resonance Centre opened in 2006 on the Campus for Ageing and Vitality, situated on the site of the old Newcastle General Hospital site. It is unique in bringing together the best physicists with the best clinical researchers. The interaction between cutting edge science and the very best doctoring enables researchers to identify promising areas in which to advance understanding of the human body.
published on: 18 November 2014