Putting down roots after 100 years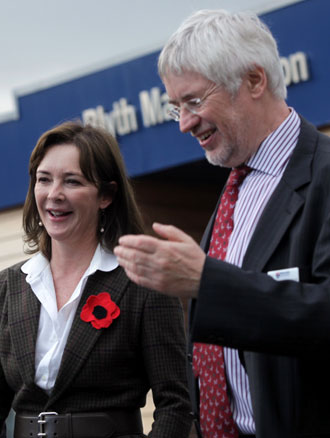 A state-of-the-art shore station that will provide research support and a unique teaching base for the next generation of marine scientists and engineers has been launched by Newcastle University.
The £500,000 Blyth Marine Station will also provide the first permanent home for the University's research vessel – The Princess Royal. A research vessel has been berthed at Blyth for the last 100 years and the new station has been kitted out with the latest equipment necessary to maintain and support the research vessel facility long into the future.
The station also houses a new aquarium that will be used to support both the teaching and the world-leading marine research.
Opened this week by Her Grace the Duchess of Northumberland, the University's marine station is part of a £1.65 million development scheme – the Blyth Education And Community Hub (BEACH) – at Port of Blyth.
Funded by the Coastal Community Fund and the European Fisheries Fund, the consortium includes the University, Port of Blyth, The Blyth Tall Ship Charity and Northumberland County Council.
Newcastle University project lead and Research Vessel Manager Dr Ben Wigham said: "The new station complements the facilities we have already at the Dove Marine Laboratory at Cullercoats.
"Whereas the University's work at the Dove is primarily centred around marine biology, here at Blyth the focus will be on offshore renewables and shipping, supporting our research in these areas and reaffirming Newcastle's position as a world-leader in marine science and technology.
"We have over 500 marine students at Newcastle and these will benefit not just from the University's facility but also from the wider project here at Blyth. We also plan to extend our outreach programmes, working closely with Schools in Northumberland to support the national drive to engage more young people in STEM subjects."
Building on the region's maritime heritage and Newcastle University's world-leading expertise in marine science and engineering, the Blyth Marine Station is one of two major projects being undertaken by the School of Marine Science and Engineering.
The £7 million Neptune National Centre for Subsea and Offshore Engineering being developed on the north bank of the River Tyne on the Neptune Energy Park, part of Shepherd Offshore, will be the first of its kind in the UK, bringing together industry and academia to create a world-class engineering research facility.
Developing technologies that can withstand one of the world's harshest environments, the new centre will be at the forefront of our quest to harness the ocean's potential as a source of food, energy and medicine.
The BEACH project at Blyth also includes the Blyth Boathouse, incorporating a fish restaurant and Port heritage centre, and a base for the Blyth Tallship Project.
published on: 5 November 2014