SOLE Central leads the way for the future of learning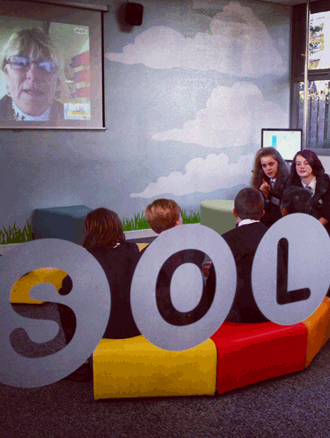 Prof Sugata Mitra explains why chaos theory can help us build a new model for primary education ahead of Newcastle University's launch of SOLE Central this week.
SOLE Central is a new global hub for research into self-organised learning environments (SOLEs), bringing together researchers, practitioners, policy makers and entrepreneurs working to re-design the future of learning.

Professor Mitra's work has already transformed lives in some of the most disadvantaged communities in the world and this new research centre will build on these strong foundations.

Writing in the current issue of the journal Prospects, Prof Mitra, who is the Director of SOLE Central, suggests that previously education kept pace with emerging technologies – such as paper or slide rules – much better than we do today. He argues that we urgently need to bring the assistive technology of our time – the Internet – into our examination systems to make learning more relevant for today's children.

"In the 18th and early 19th centuries the learner was expected to prove that he or she was capable of solving real-world problems the way they are solved in the real world," he says. "The introduction of new technology changed teaching strategies, for example as writing supplemented the oral tradition in schools, teachers would emphasise 'taking notes properly' as an important skill.

"However, in the Age of Empire primary schooling adopted a factory model, aimed at producing identical and interchangeable clerks whose essential skills – reading, writing and arithmetic – became the three pillars of primary education. This continues to be the case in most educational establishments, centuries after that need has passed.

"Learners were taught not to ask questions, but to obey orders laid out by the society they lived in. It's time for us to challenge the fundamentals of a traditional education system which has its origins in the colonial and industrial ages and whose purpose is now obsolete.

"SOLEs (self organised learning environments) are the first step towards preparing our children for a future we can barely imagine."

Prof Mitra's background in physics may on the surface look like an unlikely pairing with education, but it is crucial to understanding how SOLEs work. Self-organising systems fall under the general area of chaos theory in physics, where the long-term behaviour is unpredictable.

The SOLE environment – where children are given a Big Question to answer in self-organised groups, with few rules and sharing computers – encourages the 'edge of chaos' effect, since it is neither strictly ordered or totally chaotic. This delicate balance is important for enabling emergent behaviour to appear, as it frequently does.

Children working this way seem to create and maximise meaning out of the information they are researching – usually years ahead of their age group – suggesting the science of emergence, a common phenomenon in nature, is also at play.

Prof Mitra and his colleagues have found over the past 15 years that groups of children can learn almost anything by themselves, given access to the Internet on large, publicly visible screens in safe and public surroundings.

They have been developing a pedagogical method that is considerably different from the traditional ones used in schools during the last century.

From early 'hole in the wall' experiments in Delhi, India where a computer was placed in the wall of a nearby slum, it was evident children could self organise to teach each other and understand content years ahead of what is expected for their age group.

In an experiment to test the limits of self-organised learning, Prof Mitra, working with Dr Ritu Dangwal, found that groups of Tamil-speaking children in a southern Indian village were able to understand the basic concepts of biotechnology on their own, in English. After introducing an admiring and encouraging (but not knowledgeable) adult, their scores improved even further. This 'grandmother' effect led to the creation of a Granny Cloud of e-mediators who are now located all over the world and interact with children on a daily basis over Skype.

When he won the $1m TED Prize in 2013, Mitra, who is Professor of Educational Technology in the School of Education, Communication and Language Sciences, began to set up experimental facilities called Schools in the Cloud – two in North East England and five in India – to examine why self-organised learning works.

The aim was to understand why groups of children using this method seem to engage more deeply and are able to make sense of material at reading levels considerably above their own. In fact, easy questions or easy to read material doesn't work as well in this environment – the children thrive on being challenged and enjoy working on difficult tasks together.

The work of the School in the Cloud project, along with other research collaborations with partners such as Microsoft and Pencils of Promise, will form the basis of this new global research centre at Newcastle University.
"Some time ago Professor Sugata Mitra had a beautifully simple, but very revolutionary, idea about how we could bring education to young people wherever they are in the world," says Professor Chris Brink, Vice-Chancellor of Newcastle University. "It turned out that if you ask a question that interests children and you give them access to the internet and a "granny cloud" of people who encourage them and prompt them, then they learn by themselves.

"That notion of self-organised learning has spread like wildfire and suddenly all around the world, people are setting up their own SOLEs.

"This idea, conceived and implemented in Newcastle, has evolved to create a centre of expertise so everyone can join in this revolutionary idea of self-organised learning. It fits entirely with our notion of Newcastle as a world-class civic university - one that makes a contribution to the needs and demands of civil society - and is very much in tune with what we wish to do in the world.

"SOLE Central is a lasting legacy of what Sugata has started and will enable us to make a valuable contribution to the education of children world-wide."

SOLE Central brings together leading academics in the field of education, including its deputy directors Professors Liz Todd and David Leat, and will work across all disciplines of the university. The official launch of SOLE Central takes place on Monday 10 November 2014 and can be viewed at 1600hrs GMT.

For more information visit the SOLE Central website.

Source Information: "The future of schooling: Children and learning at the edge of chaos." Mitra, S. Prospects 29 Oct 2014.
published on: 5 November 2014