Celebrating ageing research at Newcastle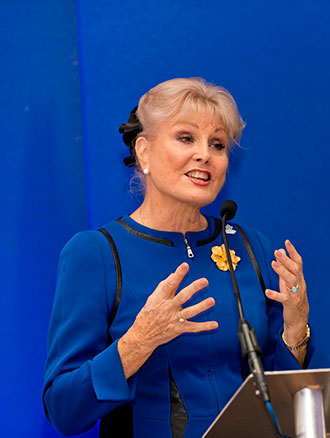 The breadth of ageing research being carried out across Newcastle University was showcased at a special launch event on 2 December.
The launch of Newcastle University's Institute for Ageing (NUIA) took place at the Great North Museum and involved over 230 guests made up of members of the public, funders, current students and staff.
The event included a guest speech given by Angela Rippon OBE (pictured). Ms Rippon has been very supportive of the University's research into ageing, and in recent years has become a highly visible ambassador for the Alzheimers' Society, co-chairing the Prime Minister's Dementia Friendly Communities Champions Group.
NUIA is Europe's largest multi-disciplinary centre of expertise in ageing. Bringing together experts in areas such as the biological, medical and psychosocial aspects of healthy ageing, NUIA aims to work with businesses, older people's organisations and individuals to develop new policies, products, services and solutions that will meet the needs of an ageing population.
Reflecting this inter-disciplinary focus, the event included speakers from Newcastle University Business School, Institute of Neuroscience, Institute of Cellular Medicine and Institute of Health and Society and covered topics as diverse as the economic impact of ageing, the mechanisms of age-related illness, and healthy ageing.
The role of technology in providing an age-friendly environment will also be on the agenda. Earlier this year, researchers at Newcastle University launched a programme to investigate how Google Glass could be used as an assistive aid to help people with Parkinson's retain their independence for longer, while another team at the University is working with stroke specialists at Northumbria Healthcare NHS Foundation Trust and other UK institutions to use robot assisted training to help stroke patients regain movement in their affected arm.
Professor Louise Robinson, Director of Newcastle University Institute of Ageing, said:
"More of us are living longer and the consequences are profound. Within the next 20 years, nearly one in four of us living in the UK will be aged 65 or over. But while this presents clear challenges, there are opportunities too.

"Newcastle University is already established as a world leader in research into ageing, its causes and social and health consequences. We were one of the first universities to recognise the importance of studying ageing and NUIA will be home to the next generation of ageing research at Newcastle University, keeping us at the forefront of research in this crucial area and helping more people live better for longer.
"It's fantastic that Angela Rippon, who is such a vocal and committed champion of the rights of people with dementia and their carers, has shown her support for our work, and I'm delighted that she came to the event to share her thoughts."
published on: 2 December 2014