Future Fund receives £1.5m donation from research charity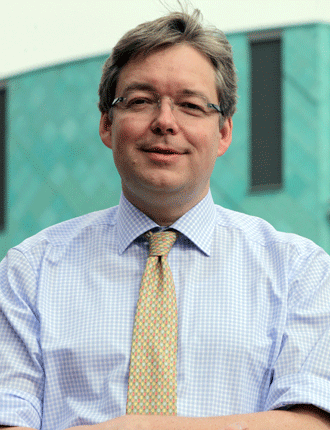 A pioneering centre dedicated to childhood cancer research is a step closer to becoming a reality thanks to a generous donation from a prestigious national charity.
The Wolfson Foundation, which supports and promotes excellence in science and medicine, has awarded £1.5m to help the Future Fund reach its ambitious goal of creating a specialist facility to develop research and treatments for young people with the illness.

Experts at Newcastle University, Newcastle Hospitals NHS Foundation Trust's Great North Children's Hospital and the North of England Children's Cancer Research, are working together to set up a £5.5m Newcastle University Centre for Childhood Cancer.

The donation by the Wolfson Foundation brings the campaign's total to just over £4m and it is hoped that the remaining funds will be generated soon so that ground-breaking work can begin and more young lives can be saved.

Paul Ramsbottom, Chief Executive of the Wolfson Foundation, said: "The Wolfson Foundation has a long track record of funding excellence, and we are delighted to be funding Newcastle's Centre for Childhood Cancer in our 60th anniversary year. We are committed to funding outstanding work across the UK, and are particularly pleased to be making a significant investment in the North East.

"This is clearly an important area of research, and an area in which Newcastle has established itself as an international leader. We were convinced by the case that was made – both in terms of expanding existing research, and in terms of co-locating researchers in a single Centre. Our hope is that the research will lead to significant advances in the understanding and treatment of childhood cancers."

Approximately 1,600 children are diagnosed with cancer each year in the UK and, despite significant advances being made over the years cancer remains one of the main reasons why children under the age of 15 die prematurely.

The Newcastle University Centre for Childhood Cancer will be set up in the heart of the University, helping the city retain world-class staff and attract internationally recognised experts in the field. Work will focus on developing therapies with fewer side effects, and treatment for children with advanced cancer or those whose illness has come back.

Professor Josef Vormoor (pictured), Director of the Northern Institute for Cancer Research at Newcastle University and Honorary Consultant Paediatric Oncologist at the Great North Children's Hospital, based at the Royal Victoria Infirmary, is leading the Future Fund campaign.

He said: "It is fantastic that the Wolfson Foundation has given us such a large donation as it brings us a step closer to developing a research facility which will provide cutting edge resources to keep advancing children's cancer research, and give more youngsters a future to look forward to.

"We have one of the best teams focused on research into childhood cancers as our work has already helped to improve the lives of thousands of young people diagnosed with cancer. However, cancer in children remains a serious issue and it's humbling to get all this support to develop better therapies for patients.

"We are already working on exciting developments in targeted therapies, and we want to be one of the key players by continuing to develop treatments that are more effective and less toxic."

A host of North East local heroes have thrown their backing behind the Future Fund campaign, including musician Sting, Dame Margaret Barbour and Professor Sir John Burn, who is Professor of Clinical Genetics at Newcastle University.

Sir Leonard Fenwick, Chief Executive of Newcastle Hospitals NHS Foundation Trust, said: "Advances in treatment over the years have led to improved survival rates for children with cancer, but for many the future remains uncertain. The Newcastle Centre for Childhood Cancer will allow us to expand the work that we do to move research forward and save more lives."

With one in 700 young adults now a survivor of childhood cancer many long-term survivors suffer from chronic health problems related to their original therapy. The Newcastle Centre for Childhood Cancer will ensure that the development of dedicated research laboratories for childhood cancer will ensure experts can build on their work to help as many young people as possible.

Chris Peacock, Chief Executive of North of England Children's Cancer Research, said: "The NECCR are absolutely delighted that the Wolfson Foundation has donated such a significant amount to the Future Fund.

"Our partnership with Newcastle University has been hugely successful and we will soon be in the most up-to-date research labs available. Cancer is such a terrible disease that claims too many lives. This money will help beat children's cancer faster and we are extremely grateful."

How to donate:

Online via the Just Giving page found at www.futurefund.co.uk, by calling 0191 208 7250, by texting NCFF01 and the amount of your donation to 70070, or in person at The Journal, Thompson House, Groat Market, Newcastle. Get involved on Facebook /futurefundnewcastle, on Twitter @FutureFundNCL and use the hashtag #NCLFF
Fact box:

The Newcastle Centre for Childhood Cancer will comprise:
• Open plan Class 2 laboratory space for more than 100 staff.
• Modular office accommodation for 12 senior researchers.
• One large and several smaller meeting rooms, plus a social space to facilitate collaborative research.
• Open plan office accommodation for administrative staff and laboratory personnel.
• Specialist facilities for a variety of fields, including tissue culture, bacteriology and fluorescence activated cell sorting.
published on: 20 July 2015