Mediwikis - student project wins enterprise award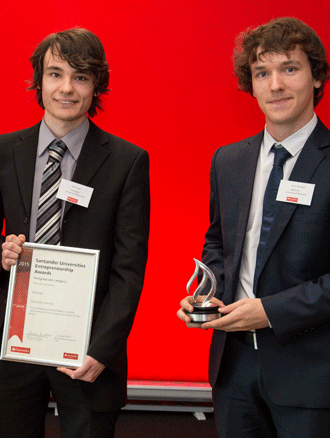 A collaborative medical learning platform developed by Newcastle University students scooped a national entrepreneurship award.
Mediwikis has been named the best postgraduate venture at the Santander Universities Enterprise Awards. The collaborative medical education platform, which helps students to share knowledge and best practice, won the £20,000 cash prize after beating four other projects in the postgraduate category.
The free, open-access platform, which is sponsored by the Royal College of Physicians, allows students to contribute their knowledge by using a modified version the same software behind Wikipedia.
The collaborative hub was launched by Stuart Maitland, a medical student doing a research year in MSc Neuroinformatics at Newcastle University, who was awarded "Britain's Top Real Role Model" in 2013 for the early concept for Mediwikis. Alex Brown, a Computing Science and Computer Games Engineering graduate from Newcastle University is helping develop the website and mobile applications.
Stuart, 22, from Whitley Bay, said: "We're really delighted to have won the Santander University Enterprise Awards. This prize will make an enormous difference to our community, and enable more medical students to collaborate and succeed together."
Designed to be tailored to each university curriculum, Mediwikis has been successfully trialled at Newcastle University Medical School, where over 85% of medical students use thousands of crowdsourced pages. It is also available across six other universities in the UK, as well as in Malaysia, Australia and China. And Stuart and Alex are now planning to launch Mediwikis in Africa.
Stuart said: "Lots of developing countries completely lack eLearning resources. They have textbooks, but the textbooks are slow to get into the country. There's no way for students to share the resources that are relevant to them and that can make them the best practitioners that they can be. We are providing Mediwikis completely free in these developing countries, and we started setting up in Rwanda and Zambia."
The Mediwikis team received guidance and support from Rise Up, the Newcastle University Careers Service support programme for student and graduate entrepreneurs and from Newcastle Science City. The Rise Up team helped Stuart create the marketing plan, refine the strategy and secure funding.
Marek Tokarski, Entrepreneurial Development Officer at Newcastle University Careers Service, said: "I'm delighted that Mediwikis has won this prestigious competition. Stuart and Alex have put so much effort into creating a service that is helping so many medical students at Newcastle University. I wish them every success in launching the Mediwikis service on University campuses throughout the country."
The awards, now in their fifth year, are funded by the Santander Universities Division and aim to support and encourage university students to pursue their business ideas. The competition is open to students from all 78 UK universities partnering with Santander Universities.
Five postgraduate and five undergraduate projects have been chosen among all the entries by a panel of judges formed by members of Santander and several UK universities and business schools.
Photo caption: (l-r) Alex Brown and Stuart Maitland. Courtesy of Santander Universities.
published on: 3 July 2015