Prestigious awards for civil engineering students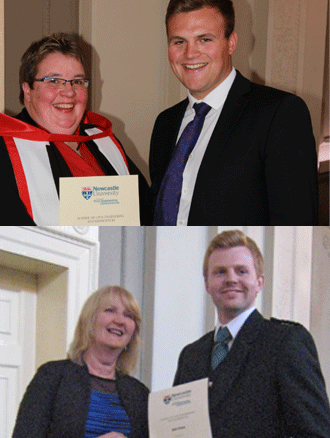 Two students at Newcastle University have been awarded with prizes by the Institution of Civil Engineers (ICE) recognising excellence in their field.
Callum Fryer, from Stokesley, North Yorkshire, and Peter Rankin, from Kilmacolm, near Glasgow, were presented with their awards upon graduating from the university. Nominations were based upon talent in engineering design, impressive coursework and strong performance in examinations.
Callum achieved a First Class (Hons) MEng degree in Civil Engineering and received the annual national award, the ICE Student Prize, as the undergraduate to have performed best in the last two years of his studies on a Joint Board of Moderators course.
As well as the ICE accolade, Callum has been awarded the university's Cassie Geotechnical Engineering Prize for the Best Stage 4 Geotechnical Engineering Option Student.
He is now preparing to start work with Skanska PLC in September. As a graduate engineer, his initial focus will be on the project to update Waterloo International Terminal.
Callum (pictured top) said: "I see it as a huge privilege to have been selected for the ICE Student Prize, as civil engineering is a compelling industry that provides a huge range of challenges, ensuring that every day is different.
"Working on extensive projects, such as at Waterloo station, provides the opportunity to leave my mark on the world. Having completed the QUEST Scholarship with the ICE, my immediate goal is to attain chartership with the Institution and progress my career with Skanska."
Peter Rankin studied for an MEng in Civil and Structural Engineering, achieving a first class honours degree. He received the ICE North East Award for the best overall performance in Stage 4.
He also received prizes for the best performance in the first and second years and was awarded the William Benedict Coleman Scholarship by Newcastle University's Exhibitions and Engineering Scholarships Committee at the end of his first year.
Having completed his studies, Peter is starting work as a graduate civil and structural engineer with Mott Macdonald in Glasgow, where he has conducted internships in his three summer breaks.
Peter (pictured bottom) said: "I was fortunate to have been selected for the non-EU exchange programme at Newcastle University, through which I spent my third year studying at the University of Colorado at Boulder. In March 2015, I also undertook a three week expedition with Newcastle University and the charity Raleigh International to the Malaysian Borneo rainforest along with 21 fellow students.
"Working in two separate remote villages we built two gravity water systems and a sanitation unit. These experiences were very exciting but they also highlighted the diverse and challenging opportunities available to Engineers across the world which is something I find very attractive.
"I am looking forward to starting my career working towards becoming a Chartered Engineer with Mott MacDonald."
Text with thanks from Recognition Services.
published on: 21 July 2015