Radical visions of the City on show in capital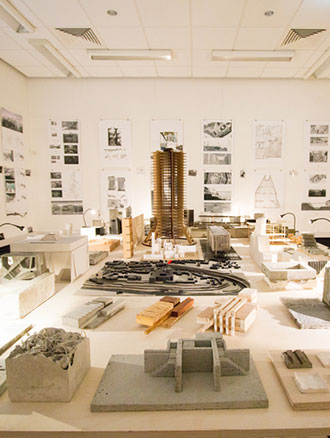 Striking designs for London, Paris, Las Vegas, and, of course Newcastle, are among the work on display as part of the Newcastle University architecture degree show, which opens in London this week.
Showcasing the ideas and designs of final year undergraduate and Masters students, the work includes designs from Assia Stefanova, who recently won the RIBA Hadrian Medal, and was placed second in the RIBA / CAA International competition 'Visualising the Future of the City', for her thesis which re-imagines the City of London as a futuristic flying island. 'Evasion Island' won praise from the judges for being 'highly contextual in social, political and urban terms, treading successfully a delicate line between fantasy and the real world.'
Also included in the show is work from two nominees for the RIBA President Silver Medal, Alicea Berkin and Jamie Anderson, alongside a range of research-led collaborations in which students worked with architects, artists and local communities to produce projects such as The Warm Room in Kielder village, Northumberland.
Work from BA students covers an impressive range of concerns from an understanding of loose territories to existing infrastructures and with materiality, tectonics and atmosphere.
Prof Graham Farmer, Director of Architecture at Newcastle University explains: "This exhibition demonstrates the School's continuing commitment to a relevant and research-informed education at both undergraduate and postgraduate levels.
"The work is deliberately diverse, threaded by an interest in architecture as a collective, cultural endeavour. Projects interrogate architectural production in all its aspects, from material processes, to modes of design, representation and construction, to the ways that architecture shapes — and is shaped by — the society and culture in which it is situated."
The Newcastle University Architecture Degree Show opens to the public, this Friday (17 July) 6.00pm - 10.30pm, when Liza Fior, of London-based muf architecture/art, will give the opening address.
The exhibition is open Saturday 18 and Sunday 19 July 10am - 4pm, and Monday 20 July 10am - 7pm at Dog Eared Film Studios, 25-28 Field Street, WC1X 9DA London.
published on: 13 July 2015