Toasting the success of student brewers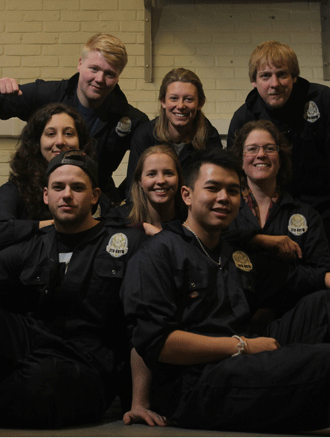 Student brewers from Newcastle University have a reason to cheer after winning the 2015 National Union of Students (NUS) Enterprise Award.
Europe's first student-run microbrewery scooped the top honours after beating four other shortlisted universities. Stu Brew was praised for demonstrating innovation and the ability to 'make things happen' by overcoming challenges.
The sustainable microbrewery, managed through Newcastle University Students' Union, brings together over 200 students who manage every aspect of the business, from sourcing hops to designing the labels.
The award follows on the successful launch of Stu Brew's first beer – OverDraught, which was rolled out earlier this year after focus groups and taster sessions with students.
Launched in 2013, Stu Brew was set up as a Student Community Action Newcastle (SCAN) scheme, which has been supported to establish sustainability projects as a part of the NUS Student Green Fund. All sales profits are invested back into training and development for students and overall long-term sustainability of the enterprise.
Red Kellie, SCAN Project Coordinator at Newcastle University Students' Union, said: "It's great that Stu Brew is being recognised for all the hard work put in by students over the last two years. Students from many different departments have worked extremely well together to overcome a lot of challenges to get to where they are now.
"After just seven months of actual production, Stu Brew is already a sustainable student-run enterprise which is going from strength to strength, selling great craft beer through the Students' Union, across the University and to local pubs and events.
"Students are taking up the challenge of managing all parts of the enterprise, from designing recipes, to brewing and casking the beer, to marketing and sales. The future certainly looks bright.
"The NUS Enterprise Award recognises outstanding examples of entrepreneurship and enterprises which promote the skills needed for life after University. Stu Brew's partnership with the School of Chemical Engineering and Advanced Materials is a match made in heaven which combines research into sustainable design with a thriving student-led enterprise."
The student brewers received guidance and support from Rise Up, the Newcastle University Careers Service support programme for student and graduate entrepreneurs.
Marek Tokarski, Entrepreneurial Development Officer at Newcastle University Careers Service, said: "It's a fantastic achievement for Stu Brew to win this prestigious national award. They have made significant progress over the past 12 months. There are some fantastic opportunities ahead for the team and I'm confident that they'll go on to achieve even more success in the future."
The brewery operates a 2.5 barrel facility as well as 20 litre experimental kit for recipe design and small-scale brews. The brewing process uses a very energy efficient hot water and cooling system which re-uses hot water to avoid more cold water having to be heated.
The student brewers plan to expand Stu Brew's range of beers and also the variety of training opportunities available to students. This is expected to create further opportunities for students to experiment with recipe design, gather feedback from the student population and boost production from the 2.5 barrel kit.
Stu Brew is one of the successful conservation projects delivered by SCAN which are earmarked to receive a £135,000 funding boost from Newcastle University as part of ongoing commitment to support volunteering and sustainability through the Students' Union.
Photo caption: Front row (l-r): Andy Thorpe,Anawat TarrMiddle row (l-r): Zelda Mendelowitz, Naomi Gray, Red KellieBack row (l-r): Charlie Read, Harriet Thresh, Dr Chris O'Malley (School of Chemical Engineering & Advanced Materials).
published on: 14 July 2015