Focus on finding cure for childhood condition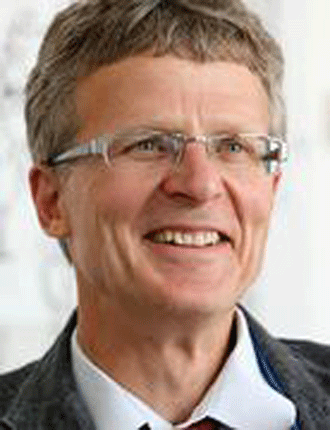 Scientists at Newcastle University have received funding to focus on finding a cure for Graves' hyperthyroidism in young patients.
Hundreds of young people a year are diagnosed with Graves' disease – where the thyroid gland produces too much thyroid hormone – but have very few treatment options, with only a quarter ever being cured.
Experts at Newcastle University have been awarded £780,643 for research into the condition as part of the Biomedical Catalyst (BMC), a joint programme run by the Medical Research Council and the Government's innovation experts, Innovate UK.
Dr Timothy Cheetham (pictured), from Newcastle University's Institute of Genetic Medicine, is leading a trial to see if one dose of rituximab, a drug used to treat arthritis and leukaemia, could be given in conjunction with the standard treatment to see if it improves the chances of a cure.
Dr Cheetham, who is honorary consultant paediatrician at Newcastle Hospitals NHS Foundation Trust, said:"There have been no new treatment options for young people with Graves' hyperthyroidism for more than 60 years.
"Current treatments are disappointing because they do not usually result in a cure and require the young person to take medication for life. For most young people Graves' hyperthyroidism will be a chronic condition with a substantial impact on long term well-being.
"This trial, conducted by a team based at Newcastle University, is looking at whether a single dose of the drug rituximab can improve the cure rate in young people with Graves' hyperthyroidism when administered with a short course of conventional therapy.
"This trial is an exciting, novel approach towards the management of a condition that is currently extremely frustrating for the young person and their family."
Graves' hyperthyroidism can cause an enlarged thyroid gland, eye problems and skin thickening, among other health issues.
The Newcastle University funded project is one of 12 new treatments, diagnostics and medical technologies that will receive a share on the £18 million announced today by Minister for Life Sciences, George Freeman.
He said: "The UK's healthcare industry has a worldwide reputation for excellence. By providing early support to latest treatment and diagnosis developments, we are not only going to potentially help improve or save lives, we are helping businesses grow and boost the UK's productivity."
The BMC supports UK academics and small to medium-sized businesses seeking to take their research from discovery through to commercialisation to deliver patient benefit. Other universities to benefit from funding include Oxford, Bath and Sussex.
Professor Sir John Savill, Chief Executive of the Medical Research Council, said: "This round of awards is a further demonstration of the exceptional science coming out of the vibrant academic and industrial research base of the UK.
"The continued success of the Biomedical Catalyst illustrates the value of dedicated support to ensure that this country can rapidly exploit world-leading science for the benefit of patients and the UK economy."
published on: 10 August 2015