Newcastle University appoints new Pro-Vice-Chancellor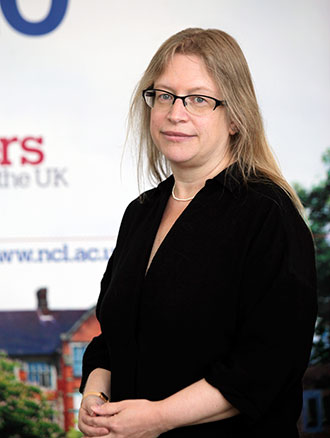 Newcastle University has appointed Professor Julie Sanders to the post of Pro-Vice-Chancellor, Faculty of Humanities and Social Sciences (HaSS).
Professor Sanders (pictured) will take up her new role from 1 September and joins Newcastle from the University of Nottingham Ningbo China (UNNC) where she was seconded as Vice Provost (Teaching and Learning). Prior to that, she was Chair in Literature and Drama and Head of the School of English at the University of Nottingham. Her career has also included periods at Warwick and Keele Universities, and she has held visiting fellowships at the Universities of Queensland in Australia and Calgary in Canada.
As Vice Provost at UNNC, Professor Sanders worked with the Arts and Humanities Research Council (AHRC) to launch their first research centre in China, the AHRC Centre for Digital Copyright and IP Research in China. This opened in March 2015 and attracted over £1 million of funding support from the Newton Fund and the Ningbo Science and Technology Bureau.
An academic of international standing, in 2012 Professor Sanders was awarded the British Academy Rose Mary Crawshay Prize for international women's scholarship, in recognition of her book 'The Cultural Geography of Early Modern Drama 1620-1650'. Exploring the links between literary criticism, cultural geography and landscape history, the book examines how drama and literature from the early modern period gives us an insight into how people during this time thought about the places in which they lived.
Professor Sanders said: "I am absolutely thrilled to be joining Newcastle University at this time and look forward to making my own contribution as Pro-Vice-Chancellor to further enhancing the University's reputation as a civic university in a truly global context.
"The HaSS Faculty represents an impressive range of disciplines, all of which are contributing to the university's focus on tackling societal challenges and purposeful public engagement in richly creative ways. As someone who has always enjoyed thinking across disciplinary boundaries and working in teams, I am particularly excited to be part of this Faculty's future, working with a terrific community of staff and students to achieve ever greater things in research and learning."
Professor Chris Brink, Vice-Chancellor of Newcastle University, said: "Professor Sanders brings to Newcastle a wealth of experience in cross-disciplinary research, and an impressive track record of leading innovative teaching and learning initiatives across the globe. The diversity of Newcastle's expertise in humanities, social sciences, and the arts has given us a strong reputation in these areas. We want to make an even greater contribution to these fields and Professor Sanders will play a key role in helping us achieve that."
published on: 24 August 2015