Newcastle University appoints new Professor of Digital Humanities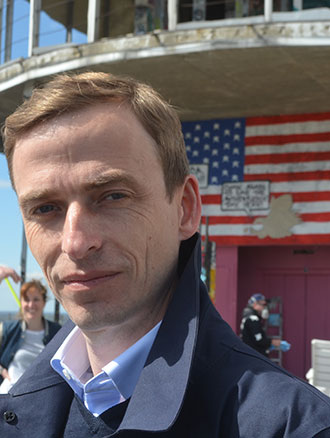 Newcastle University has further bolstered its expertise in digital humanities with the appointment of Professor Richard Clay.
Professor Clay (pictured) takes up his new role from 1 September and joins Newcastle from the University of Birmingham, where he was Co-Director of the Digital Humanities Hub, which brings museums, galleries, libraries and other cultural organisations together with academics, digital SMEs and other partners including the NHS to develop collaborative research partnerships.
An art historian specialising in eighteenth- and nineteenth-century visual cultures, Prof Clay advised Tate Britain on their 2014 exhibition 'Art under attack', and has made several appearances in the media. His first BBC 4 documentary, 'Tearing up history' was aired in 2014 and was warmly received by critics and the public alike.
His latest film, 'A brief history of graffiti', will be broadcast next week on BBC4. In the programme, to be broadcast Wednesday 26 August at 9pm, Prof Clay guides us through the enigma of graffiti – from cave art, revolutionary posters, the triumphal graffiti of Russian troops who captured the Reichstag in 1945 through to contemporary street-art.
Professor Clay said: "I'm enormously excited to be joining Newcastle University as the new Professor of Digital Humanities. The university's staff and students are doing really amazing digital work and lots of it involves working with other organisations and communities. For me, that shows how committed the institution is to its important role as a civic university, and I'm looking forward to helping them develop this wonderful portfolio of activity in the years to come."
In his new role, Prof Clay will provide leadership for colleagues throughout the Faculty of Humanities and Social Sciences working in Digital Humanities at Newcastle both through their own research and by fostering research projects co-developed or led by others. He will work closely with external partners and act as a catalyst for cross-disciplinary projects exploiting digital technologies. He will also work with colleagues to expand the University's digital humanities teaching offer to students.
Professor Eric Cross, Dean of Cultural Affairs at Newcastle University, said: "I'm excited to welcome Richard to Newcastle University. He brings with him a wealth of experience in innovative collaborative arts-based research projects and I'm sure will play a prominent role in keeping Newcastle University at the forefront of this dynamic area."
Prof Clay is currently the Arts and Humanities Research Council's 'Commons Leadership Fellow' and also sits on the AHRC's Tenth Anniversary Advisory Board.
Most of Prof Clay's published research concerns aspects of French revolutionary iconoclasm. However, he has also published on British coins and prints produced during the industrial revolution, early twentieth-century British watercolours, contemporary jewellery as wearable art, artist books in the digital age, and multi-user, multi-touch software development.
'A brief history of graffiti' is broadcast at 9pm on Wednesday 26 August on BBC4.
published on: 20 August 2015