Street art pops up in Whitley Bay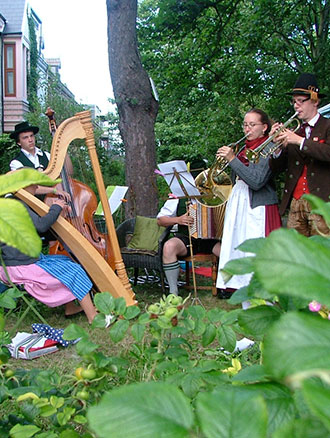 Graduates and current students from Newcastle University will be among the artists installing pop-up art exhibitions in Whitley Bay later this month, as part of an arts programme set within a community rather than an art gallery. 
The
Arthouses
programme sees artists install their work directly into the community. Residents and businesses transform their houses and premises into art venues for the weekend and host sculptures, drawings, performances, film and video from a mix of local and international artists, as well as the work of graduates and current students from Newcastle University.
Now in its 6th year, Arthouses was set up by
Tracey Tofield
, artist and Associate Lecturer in
Fine Art
at Newcastle University. Tracey says: "Art is for everyone, so the Arthouses programme is all about bringing contemporary art into the heart of the local community. It starts conversations, gives people the opportunity to talk directly to artists, talk to their neighbours, ask questions and discuss and be challenged by what is being presented.
"In previous years we've had everything from performances in front gardens to sculptures in front windows. This year, we're really excited about our 'bike-in' – like a drive-in movie theatre, but with bikes! People will be able to come along with - or without - their bikes to see a screening of '
Dummy Jim
'. This fantastic film is about James Duthie, a profoundly deaf factory worker from Aberdeenshire, who in 1951 embarked on a 3 month, 3000-mile round trip from Scotland to the north of Norway. The screening is part of the film's national tour so we're delighted that we can include it in this year's festival programme."
The Arthouses programme has just been given funding by
Newcastle University's Institute of Creative Arts Practice
to help it expand the number of venues for the future. "The enthusiasm of the householders - who have been so generous with their time and willingness to invite the public into their homes - has been a massive factor in the success of Arthouses in the past," explains Tracey. "This new funding will help to offer more opportunities for students to contribute to the Arthouses programme and to develop new relationships with the Whitley Bay community to ensure the Arthouses programme continues to offer something for everyone."
This year's programme runs over the August bank holiday weekend and forms part of the
Whitley Bay film festival
. Arthouses activities will be centred mainly around the town's Victoria Avenue. And for the first time, Whitley Bay library will be an Arthouses venue, open to festival goers who can immerse themselves in the audio visual and installation works exhibited, including work from international artist
Rachel Mclean
.
Nearly 30 students and graduates from Newcastle University are involved in putting the programme together and displaying their own work. The display at Whitley Bay library, for example, has been co-curated by Newcastle Fine Art graduates Matt Wilkinson and Ash Howland-Davenport. Matt, from Preston, Lancashire says: "There is a really exciting and vibrant arts scene in the North East. I first got involved with Arthouses as a first year undergraduate and am delighted to be involved with the programme again. Arthouses is a fantastic opportunity, offering students and graduates a platform to exhibit works into a project that has the community right at its heart."
Pictured: A Bavarian choir perform in a front garden, as part of Arthouses 2013.
published on: 11 August 2015