Student satisfaction at Newcastle University among the highest in the UK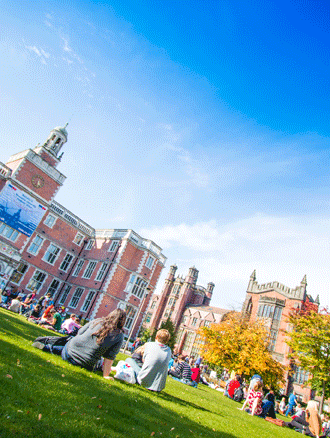 For the second year in a row Newcastle University is ranked among the best universities in the UK for student satisfaction.
Newcastle University's overall satisfaction score of 91% in this year's National Student Survey (NSS), published today (12 August), means that nine out of 10 students are happy with their time in Newcastle – placing it joint 6th in the UK, when compared against comparator institutions.
Professor Suzanne Cholerton, Pro-Vice-Chancellor, Learning and Teaching at Newcastle University, said: "This is a great achievement and a credit to everyone at Newcastle University who is dedicated to providing an excellent experience for our students. The NSS is the most significant measure of student satisfaction in UK universities and we are delighted that our students continue to rate their time at Newcastle University so highly."
The survey data shows that 92% of students agree that staff are good at explaining subjects and 93% of students were satisfied with the library resources and services.
Professor Cholerton said: "The positive results reflect our commitment to delivering the best possible teaching and learning for our students through continuous investment in improving facilities on campus and teaching standards.
"Recent initiatives include a £27m investment in student accommodation, upgrading IT facilities, expanding Wi-Fi coverage and developing innovative, user friendly learning spaces. We are also improving library resources with the acquisition of a new library building which will open in January 2016."
Newcastle University scored highly in the teaching and academic support categories, with 90% of students agreeing that staff are enthusiastic about what they are teaching and 92% saying that they were able to contact staff when they needed to. In addition, 81% of students said they were satisfied with the Students' Union - a considerably higher rate than the sector average of 69%.
Maddie Fitzpatrick, a BSc Hons Biomedical Sciences student, said: "The lecturers are so experienced and passionate about what they do. They have also been very helpful and supportive in helping me choose subjects I would enjoy specialising in and with applying for summer work placements. We have a lot of opportunities to perform practicals in the labs and the medical school library is very handy to access on our breaks. Our lectures are also recapped online so we can listen to them again.
"The staff are excellent and not only teach, but support us entirely along the way. The course can be challenging but it is constantly exciting learning about the latest research."
Newcastle University has also scored highly in a number of other independent student surveys this year.
This month, Newcastle University accommodation was voted sixth in the UK in the National Student Housing Survey and earlier in the year it was placed 10th in the UK in the Times Higher Education Student Experience Survey (THES). The THES scored Newcastle third in the country for the quality of staff and lecturers. The University is ranked fourth in the country for quality of student life by the Complete University Guide.
Newcastle University students are also among the most employable in the country. The most recent graduate destination data, from those graduating in 2013/14, shows that 94.8% of leavers were in employment six months after graduating.
The University will have Clearing places available for many courses for high-achieving applicants, particularly those who achieve ABB+ at A Levels or better. The Clearing hotline opens for UK students on Thursday 13 August at 7.30am. Students with good grades can call 0800 073 5050 or visit the Clearing website.
published on: 11 August 2015